Moonbird
Joyce Dunbar & Jane Ray
Handprint Theatre Company
Pleasance Courtyard
–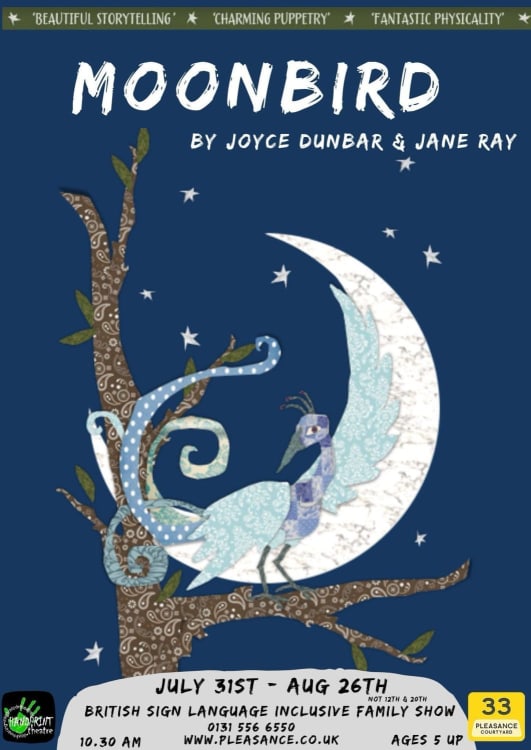 This quietly beautiful show, accessible to hearing and deaf audiences, is an absolute delight. Handprint Theatre presents Joyce Dunbar and Jane Ray's poetic parable about communication using a range of methods inventively to create their own broad stage language that serves to add to the sense of magic and wonder.
We follow the exploits of young prince Orla, who is born unable to communicate with his family—he is deaf and they are hearing. His parents, the king and queen, love their son very much but are at a loss as to how to reach him. Meanwhile, the young prince's growing frustration affects his confidence.
A visit from the magical Moonbird, whose song comes in pictures, shows him a wonderful garden where all the creatures communicate with their eyes and gestures, until finally he is greeted by some cheeky monkeys who begin to teach him (and the audience) to sign.
Perfect for families with children of all ages, Moonbird delicately sets out many of the experiences common to families with deaf children, doing so with generosity, playfulness and understanding.
Even my eleven-year-old son enjoyed it, saying, "a beautiful story acted out by Handprint Theatre, starring wonderful puppet work and showing that you don't need to be hearing to understand someone." (Henry Trigwell-Jones)
Reviewer: Tony Trigwell-Jones