Moonfleece
Philip Ridley
Rich Mix, Bethnal Green
(2010)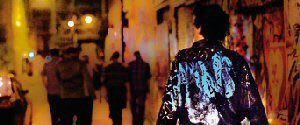 With a muted election just around the corner, politics is on everyone's lips. Although this productions does address issues such as the rise of nationalism, politics is merely used as a catalyst for Ridley's plot - an explosion of emotion as one boy's life is blown apart.
Curtis could be the next big thing in politics, but he's being tormented by sightings of his dead brother. To try and exorcise his demons a séance is held in the very same flat Curtis and his brother grew up in all those years ago. All would have gone to plan were it not for Link and his mysterious friend Zak squatting in Curtis' hallowed ground. It soon transpires that these unexpected and unwanted guests could provide answers to Curtis' torment and the link between him and his dead brother he's been pining for.
Ridley's plot takes on Shakespearean qualities, borrowing greatly from Hamlet. After Curtis' dad dies, his mother re-marries a cut throat man hungry for power: the nationalist politician Mr.Avalon. The similarities don't stop there, as Curtis sees the ghost of his dead brother who ultimately warns him about his new father. The device used to expose Avalon echoes the Mousetrap scene, with Link's speech mirroring Polonius' as he proclaims a story of 'Fantasy. Thriller. Thriller-fantasy. Comedy-weepie-fantasy!' Add this to Curtis and his ex-girlfriend Sarah being trapped between Curtis' nationalist party henchmen and Sarah's multicultural posse and a bit of Romeo and Juliet is added to the mix. This is Shakespeare for the Banksy era.
Just like Shakespeare, Ridley knows how to create dramatic tension which manifests itself frequently as the two opposing friendship groups battle each other for ideological superiority. The cast of extremely talented young actors deliver the myriad of emotions effortlessly as they swell from love, to fear, to anger, to hatred, to betrayal, to forgiveness, to worry, to confusion, to frustration. A finer cast could not be found.
Each actor offers an intense individual performance and nobody ever stops acting, even though they are often onstage without any dialogue for some period of time. No-one acts the stereotype and congratulations must go to director David Mercatali and his cast who make each of the characters believably real young people, confused and angry in a world where there seems to be a Big Bad Wolf around every corner.
Ridley is a master storyteller and, as well as drawing from Shakespeare, Fairytale references are woven into the plot. Unfortunately the last section drags, starting with Moonfleece's Mousetrap which takes the form of a fairytale mixing reality with fantasy. The story within a story goes on for far too long and the audience needn't hear the whole metaphor to understand what is being hinted at relating to the death of Curtis' brother.
Avalon's party uniform of crisp grey suits with white shirts and red ties to resemble the English flag contrast against the multicoloured neon outfits of Sarah's multicultural friends. Minorities are clearly represented here, be that ethnicity or sexuality and disabled people aren't, as is so often the case, forgotten either, with character Nina using a wheelchair. Some may accuse Ridley of ticking all the minority boxes, but it never feels forced and rightly shows a slice of the diverse and multicultural Britain we live in today.
As Link comments twice in the piece, Zak's storytelling 'is an experience not to be missed', just like Ridley's and this wonderful production.
Playing until 13th March 2010 at Rich Mix and then touring to the Alhambra Studio Bradford, the Leicester Peepul Centre, the Birmingham Drum, the Doncaster Little Theatre, the Mill Theatre and the Dormston Centre Dudley, Riverside Studios London and the Greenwich Theatre.
Reviewer: Simon Sladen