Moonfleet
Gareth Machin and Russell Hepplewhite
Salisbury Playhouse
Salisbury Playhouse
–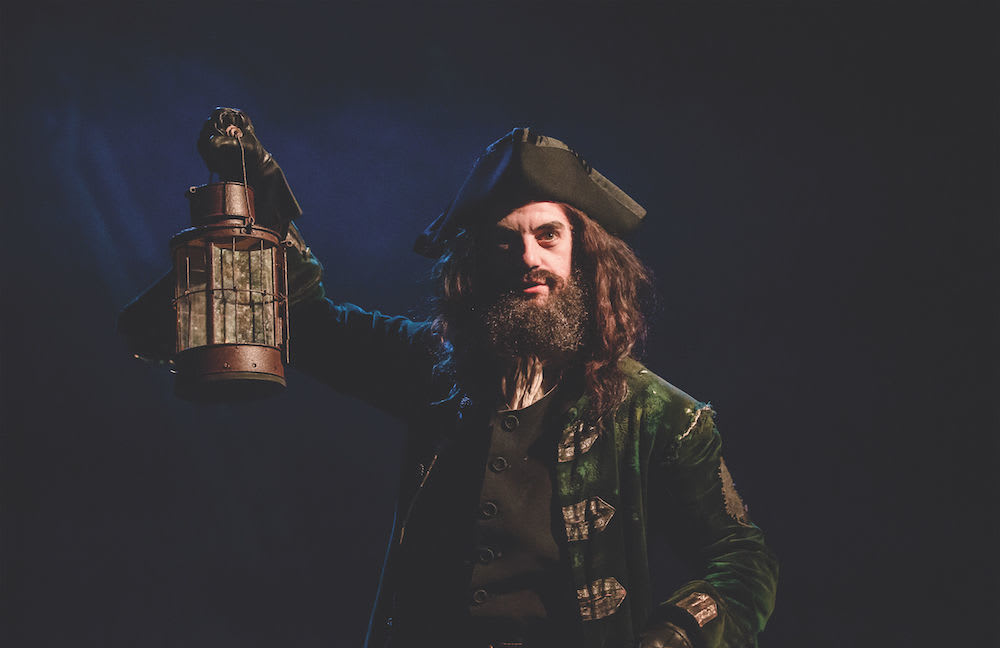 We all read it at school, didn't we? And loved it, that wonderful 1898 story of smugglers and pirates, shipwrecks and intrigue. And we're so thankful that, when author James Meade Falkner inadvertently left his fourth novel, while still in manuscript, on a train, it wasn't his second, Moonfleet.
The play follows the fortunes of lovable fourteen-year-old orphan John Trenchard (Ryan Heenan) who lives with his maiden Aunt Jane (Rhona McGregor) in Moonfleet (actually modern day Fleet, a small fishing village on the Dorset coast, largely destroyed in a storm in 1824 and nowadays referred to as 'part of Chesil Beach'. (We do like to keep things a bit local).
When John finds it impossible to live up to the strict religious life his aunt imposes on him and can no longer stifle his passion for adventure, he finds refuge with Isabelle Block, the motherly innkeeper, banished from her home by the unscrupulous Maskew (Earl Carpenter). Yes, I know. You remember Isabelle as Elzevir, don't you? Not Isabelle. Well, this is a rather special year for women, isn't it? So I think we can forgive them the change and the heroic part, as played by Rebecca Lock, will certainly have you reaching for the tissues.
A big cast, ten altogether, with Simon Butteriss playing three parts and Earl Carpenter two. But there is the delightful couple, Ratsey (Dom Hartley-Harris) and Mrs Gadd (Susannah Van Den Berg), to give a bit of comic relief among the often terrifying effect of the narrative. A bit of spring pantomime, really.
Then there's the character who introduces the performance, commenting on the action and continuing to contribute to the sinister atmosphere. He is, of course, Blackbeard the ghostly pirate (Ashley Mercer), tall, dark and menacing. We won't easily forget the moment his beard is found in the underground coffin.
The set is dark, which is appropriate since most of the scenes, including a shipwreck, a beach and a church interior, take place at night, with a small lit screen to show, when necessary, what's happening underground. Stage hands are dispensed with. The cast do all the necessary shifting themselves. And it's such a clever set, especially the lighting. You know in reality they can't row a boat on the stage, but you can almost believe it. So well done Tim Lutkin the lighting designer.
Moonfleet has been three years in the devising and preparation, but then it has another element to add to the mixture because it's actually a musical. Every scene has its own melody or recitative and this, of course, makes it very special, raising the audience's emotional experience to new heights. Russell Hepplewhite, who is responsible for the lovely music, and writer and director Gareth Machin are obviously a dream team when it comes to producing musicals. An enormous effort has obviously gone into the making of Moonfleet. But well worth it. A pity it has to end on May 8.
I wonder if they've thought of issuing a CD. Next time perhaps.
(Oh yes. There's got to be another time.)
Reviewer: Anne Hill