Moonshadow
Steve Hennessy
White Bear Theatre
(2009)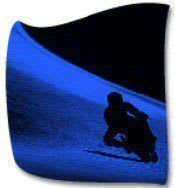 Playwright Hennessy runs Bristol-based Stepping Out, who co-produce this show with Partisan Theatre, Simon Collier and the White Bear. His is a theatre company that concentrates on mental health themes. They work with and involve people who have used mental health services and their allies alongside professional actors. Certainly this play fits their brief but first and foremost it is a piece of engaging theatre, due mainly to the sincerity of the performances in it.
Although it is set in a mental health hospital - of which the padded walls of Ann Stiddard's set constantly remind us - it doesn't try to explain any particular case or procedure. It simply gives us a glimpse into the lives of two patients and of a doctor and a nurse who work there. In doing so it demonstrates just how thin is that line between those with mental problems and those supposedly without them.
At its centre is John, sectioned under the Mental Health Act and held in a secure ward, but it is August 1999 and with the millennium looming he knows that he has to be in Cornwall for the approaching eclipse of the sun. Off-stage he may be smashing the place up and kicking Dr Brown in the goolies but when we meet him he seems either all charm and reasonableness or off in a world of his own, transported to an astral plane from which he can look down on the nurses leaving the hospital and the fox raiding the bins or fly off down to Cornwall and the caravan site of his childhood holidays.
John has been reading the Book of the Apocalypse and has some sort of religious mania. He believes the touch of the moon's shadow will fill people with either magic or madness - though they won't know which. He wants to be one of the army fighting on the side of the angels in a cosmic battle that will be set off by the eclipse.
Michael Dylan makes John so convinced by his beliefs that one can't help wondering if it's the secularist unbelievers in this millenialist prophecy who are going to be proved wrong. His enthusiasm and conviction when he believes himself on the astral plane give him a moving innocence that makes his memories of a sadistic father more horrible and he brings a cunning charm to his attempts to manipulate his doctor by being excessively compliant though his duplicity is totally transparent.
Female patient Judy, sexually abused for many years by an uncle, decides to help him. She has seen a snatch of Puccini's Madame Butterfly on the telly and has bought the CD. Now she introduces John to opera - well an opera anyway - and tries to cheer him up with some vigorous bonking. 'Someone's coming he whispers,' thinking of the nurse in the next room. 'Yes, I am!' Judy screeches. Annabel Bates gives Judy a disarming openness, with glimpses of another manipulative agenda; her sassy Essex or East London manners the more knowing when contrasted with John's rural accents.
John at times has seen his violent father, and now his doctor, in the guise of God. Certainly Dr Brown has power over him. Is that power misused, especially when John is given electrotherapy, which he experiences as a transforming crucifixion? Is he expiating the sins of the medical profession?
Brown may have god-like power over his patients but Oliver Hume plays him as a man full of his own insecurities. He's jealous that John and Judy have got together. An attraction to nurse Lucy, who seems opposed to many of his medical decisions, is not reciprocated, despite the fact he has made her pregnant after a drunken party. Beverly Longhurst's Lucy is obviously a strong-minded young woman determined to stand on her own two feet, a responsible carer who is becoming disillusioned with her work and her colleague. Their relationship becomes the plot line of the play.
Chris Loveless's direction has drawn confident performances from his cast and his pared-down production, moving easily from real world to inner world, concentrates the attention, though the physical transition from one to the other and other changes of location take some moments in a black out. They could be faster if the play moves on to differently equipped venues but none is long enough to be a real hiatus: after the first couple of changes they become a pattern, but with these performers and the lighting effects already in use I wonder whether such changes are really necessary.
This is an open-ended piece that does not set out to argue the case on any particular issue but it does focus one's thoughts on mental health: on patients, carers and our own attitudes. Everyone will know someone who has a mental health problem of some kind during their lives, even if they are lucky enough not to suffer themselves. This play is a stimulus to talking about such problems and can only lead to greater understanding.
At White Bear Theatre until 19th July 2009
Reviewer: Howard Loxton