More Moira Monologues
Alan Bissett
Bissett / Kyle Productions
Scottish Storytelling Centre
–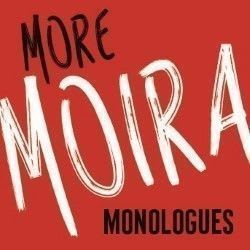 Moira Bell returns!
After having scunnered the stage of Edinburgh's Festival Fringe several years ago with the first lady of Falkirk, the voice of the common woman and some of the most cutting local wit, this welcome sequel finds Bissett reprising that role with aplomb.
It's an older, wiser, and in some small ways, gentler Moira having been mellowed, but only the tiniest smigeon, by the birth of her first grandchild, narrating a series of events to her best pal, Babs, told in short vignettes much in the same style as the first play.
This time round, Moira's stories are about touching base with family, old lovers and Falkirk itself. But if the subject matter is more reflective, the humour hasn't changed at all, as Bissett's timing and delivery rarely miss and the laughs come thick and strong.
It's a fine companion piece to the original Monologues, and I wouldn't be suprised if Bissett returns to the character again in the years to come.
Reviewer: Graeme Strachan