Mother Courage and Her Children
Bertolt Brecht
Blackeyed Theatre
Greenwich Theatre
–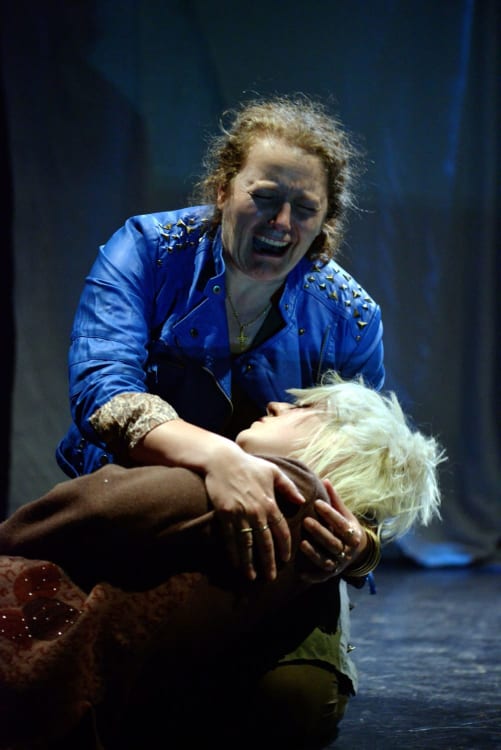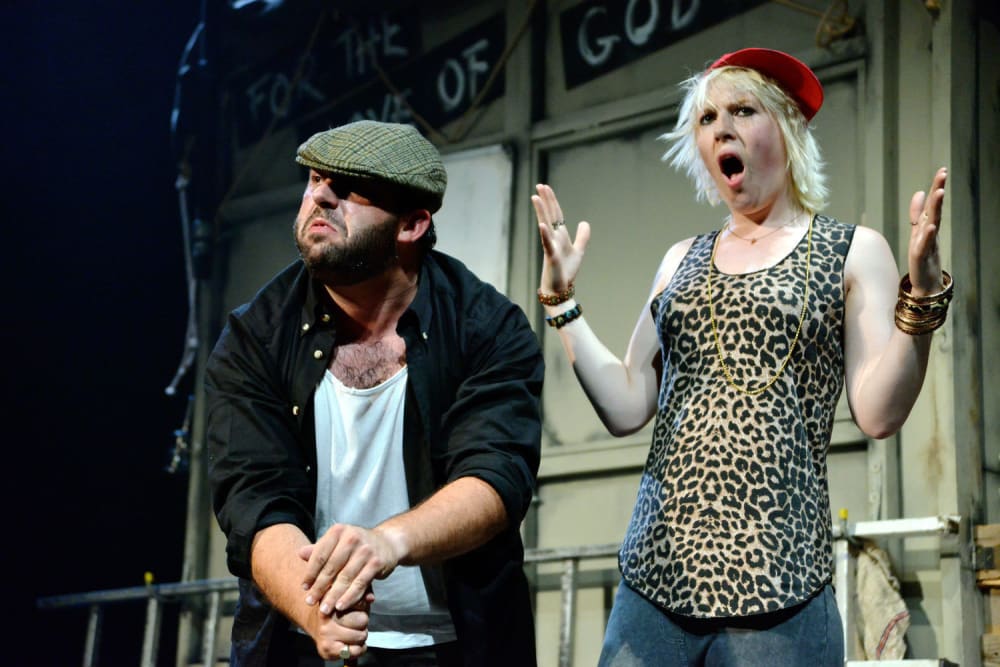 This touring production uses Lee Hall's very contemporary translation, which was first staged by Shared Experience in 2000. Transposing the action from the seventeenth–century Thirty Years War to a future war-torn Europe between 2024 and 2036, it is in a raunchy vernacular that gets a full throttle performance from Janet Greaves as a young Mother Courage.
In this tale of a woman concerned only for herself and her family, exploiting the economic opportunities that war offers as she treks with the armies across the continent, the title role is central. Greaves gives us a woman more warm-blooded and buxom than the stark drawn figure that the role's creator Helene Weigel presented. She doesn't seem marked for tragedy. It is not until late in the play that we begin to see her circumstances undermining her confidence and entrepreneurship so that the silent scream that Weigel made famous comes as a momentary revelation of a feeling she hides.
This production has only four other actors. They play not only Courage's three children and the Chaplain, who accompanies her in mufti through most of her travels, but every other character too. Helped on with a coat by one of her colleagues, Georgina Hall turns from the mute daughter Kattrin into prostitute Yvette or appears as an officer in the army. Jacob Addley (Swiss Cheese), J J Henry (Chaplain) and Tristan Pate (Eilif) are the rest of this hardworking ensemble. They all also play instruments from electric guitar to saxophone for the songs which form such an integral part of Brecht's dramatic scheme.
The change of period sees Courage's cart replaced by a canteen van and one that remains stationary. It may look comfortably familiar but, though projected titles may tell us changed time and place, there is little sense of that trek across Europe. When some mimed pushing does happen, it is too little too late and the idea that it can be manhandled long distances exceeds even my capacity for suspending disbelief. It also removes any chance of Brecht's final image of Courage still going on alone. Indeed Tom Neill's production seems to suggest she gives up.
We do get the story, but the pace and the playing are too even, the telling needs clarity. There is too little drama in Courage's refusal to recognize her dead son, or in Kattrin's wild drumming to warn the city of Halle of an oncoming assault. These strong dramatic moments need seizing.
The projected captions are fractured by the tent surface on which they are shown, making them slow to register, and there are some video clip projections that seem without purpose. They need to present clear, hard facts.
Where Neill's production oozes with energy is in Ron McAllister's settings of the songs. Yet most of these are a disaster. In them, Brecht speaks directly to the audience but here the words are largely incomprehensible. It is not the fault of the music but probably because the singers are too close to their microphones or the sound engineer is not listening. In the couple of songs that aren't belted out, including one sung acoustically, things are fine.
This is a great play in a production that tries hard but needs to work more for clarity of communication and to recapture Brecht's skill in creating great dramatic moments.
Reviewer: Howard Loxton