Mother Goose
Paul Hendy
Sheffield Theatres and Evolution Productions
Sheffield Lyceum
–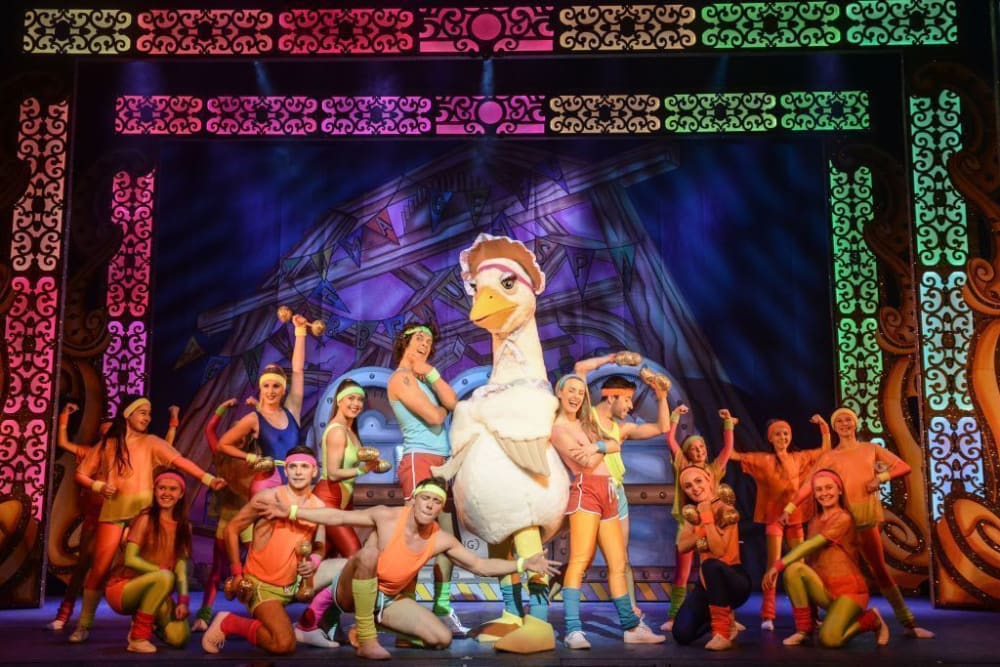 The Sheffield Lyceum is celebrating the 10th anniversary of Damian Williams's appearance as the pantomime Dame in a lively, witty, fun packed version of Mother Goose, written and directed by Paul Hendy of Evolution Productions.
Damian Williams is as always an impressive Dame, 'the fat bloke in the dress', with a resounding voice, plenty of unscripted repartie, liquid facial expression and a style of delivery reminiscent of Tommy Cooper. In this year's production, Williams adds an extra dimension to his usual blustering performance and that is pathos. When he is hurt by uncomplimentary remarks from other characters in the story, he visibly shrinks and commands enormous sympathy from the audience who love him even more when he's seen to be vulnerable.
The casting of the show is exemplary. Lisa Davina Phllip is a magnificent Fairy Goodfeather with a rich West Indian accent who immediately establishes a strong rapport with the children in the audience while suspended from the flies. Similarly, Andy Day as Billy Goose, well known for his work on CBeebies, is a warm, cheerful energetic performer who draws enthusiastic responses from the children.
Jake Canuso is a handsome narcissistic melodramatic villain in very tight black leather trousers who lives up to his name of Demon Vanity. The young love interest is provided by Dylan Craig and Cara Dudgeon who has a particularly strong singing voice; and Adam Price goes from irate Squire to good-hearted friend with effortless ease.
This is an especially dynamic production, visually splendid, which includes favourite set pieces like the 'haunting scene' on the Lyceum bench and the wordplay of the wheelbarrow scene, this time about shop names. Novelties in this production include a 3D sequence which requires special glasses and allows us to see Mother Goose projected into space; and a beautifully mimed and very entertaining mirror sequence which must go back to the early days of pantomime.
Everybody in the cast sings and dances with energy and enthusiasm, including the team of young children who perform faultlessly. Choreography by Sarah Langley is exciting and perfectly complements the varied music provided by musical director Nathan Jarvis and the four talented and hard-working musicians.
The varied sets by Morgan Brind are colourful and elaborate and take us from a village setting to a spa and much more. Helga Wood's costume designs are stunning. The Dame appears in a large number of outrageous outfits with even more outrageous hats, and the company of singers and dancers make frequent costume changes. On one occasion, they appear in delightful feathered costumes and incorporate fan dancing into their movement; on another they are dressed in skimpy outfits suitable for a work out at the spa.
There is also a larger-than-life pantomime goose who lays golden eggs and a small company of dancing goslings to entertain us. This is a thoroughly enjoyable pantomime with plenty of variety for everyone.
Reviewer: Velda Harris