Mother Goose
Jonathan Harvey
Ambassador Theatre Group Productions
The Lowry
–

Listing details and ticket info...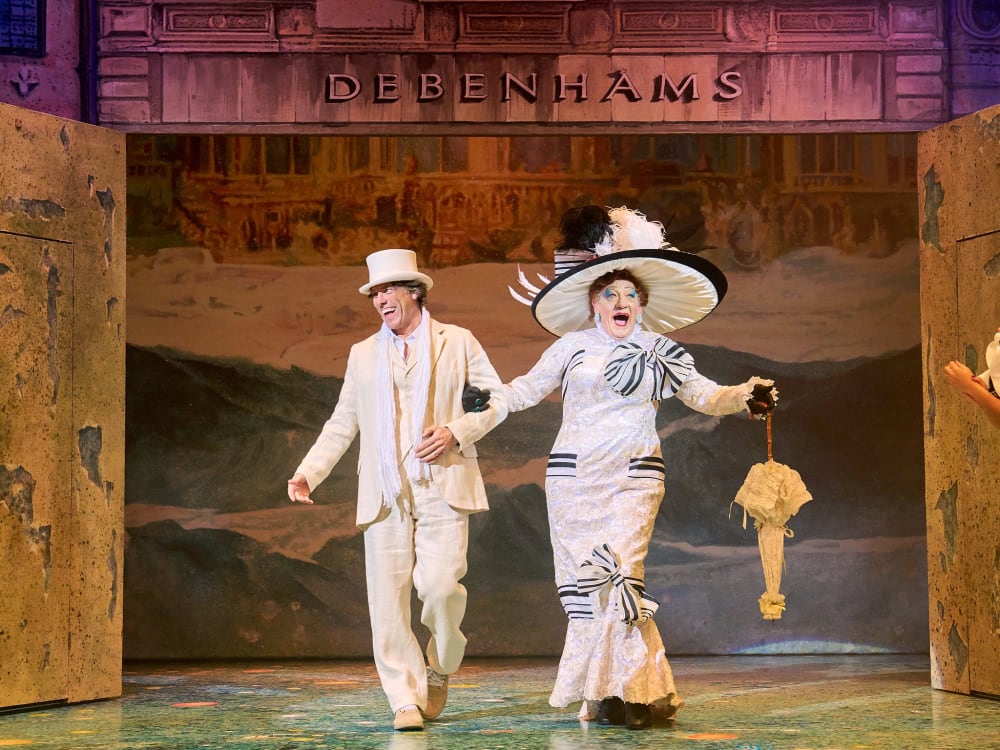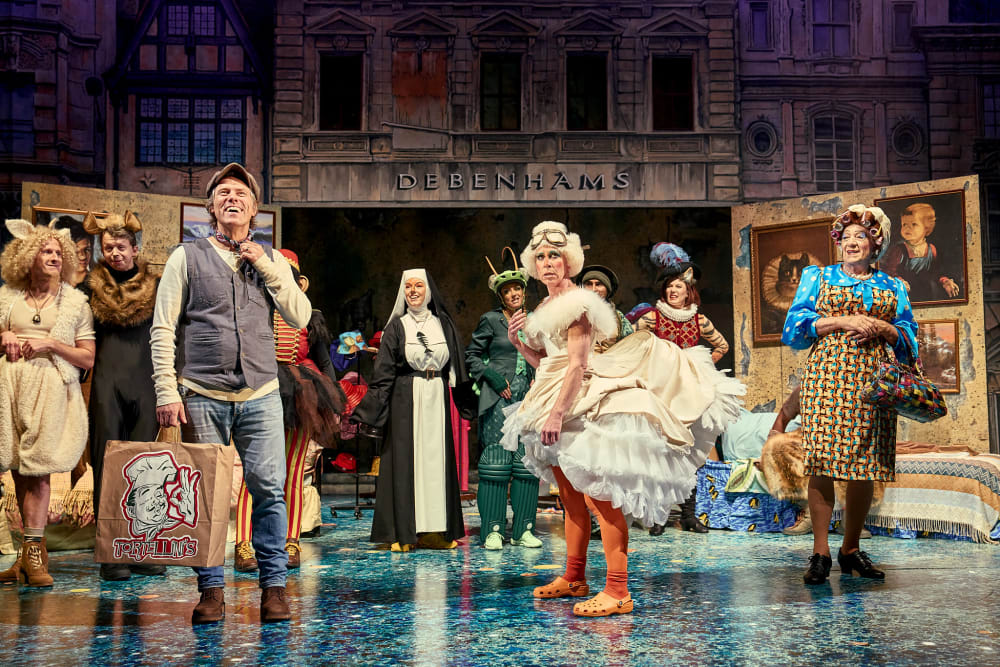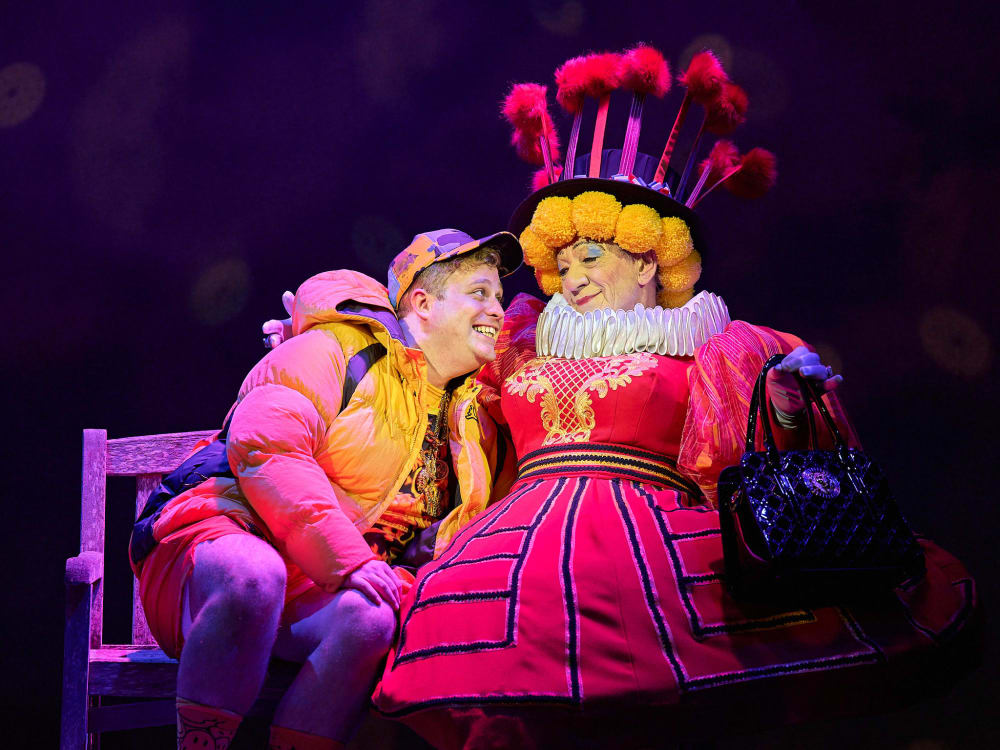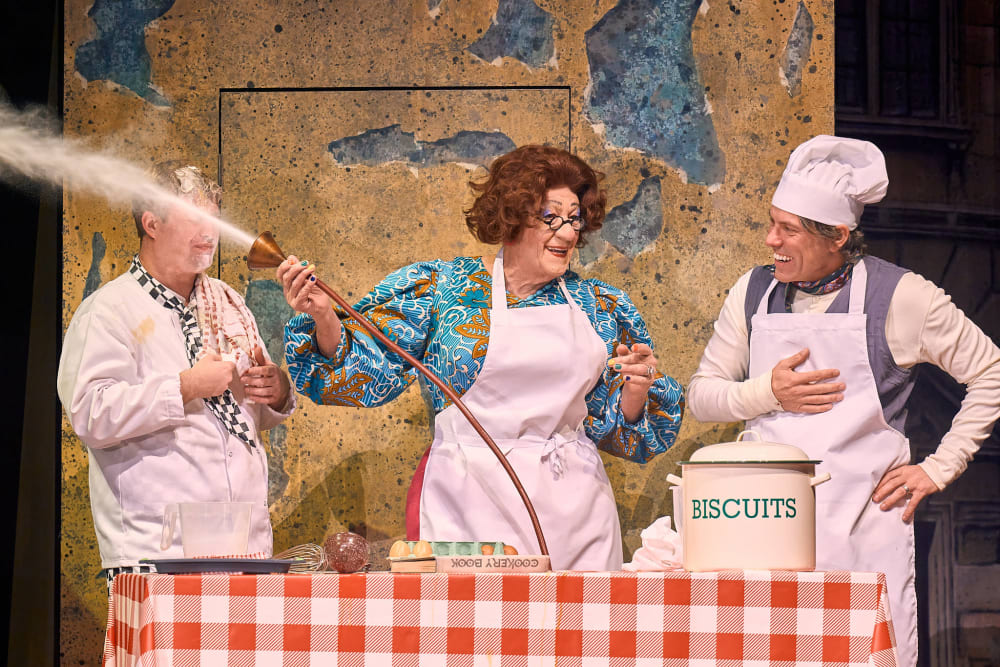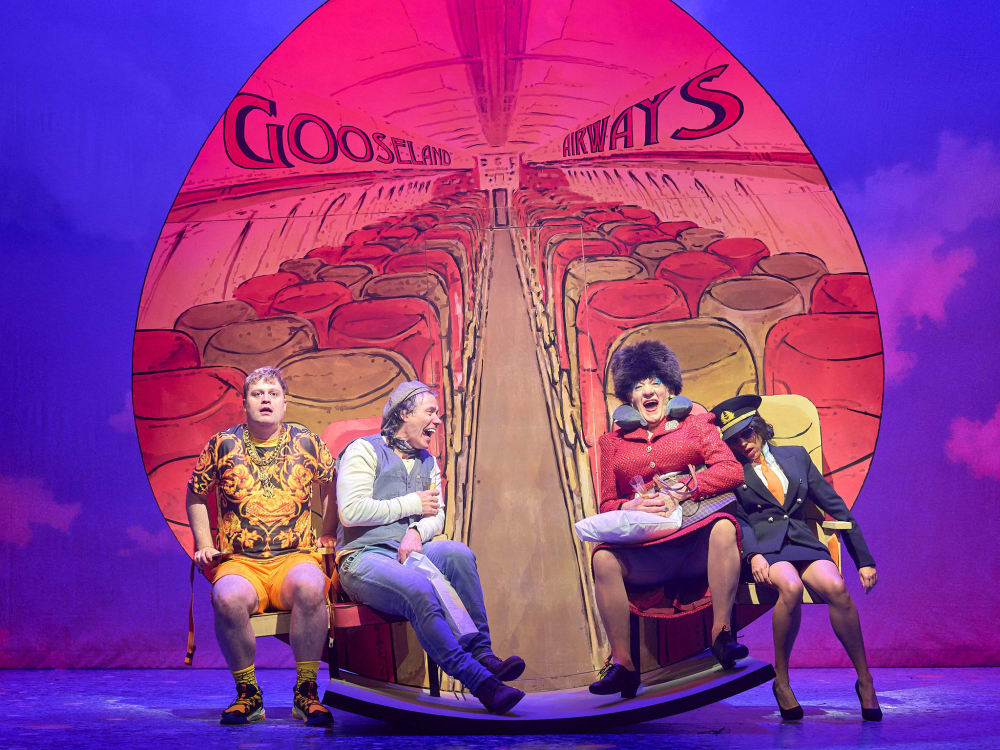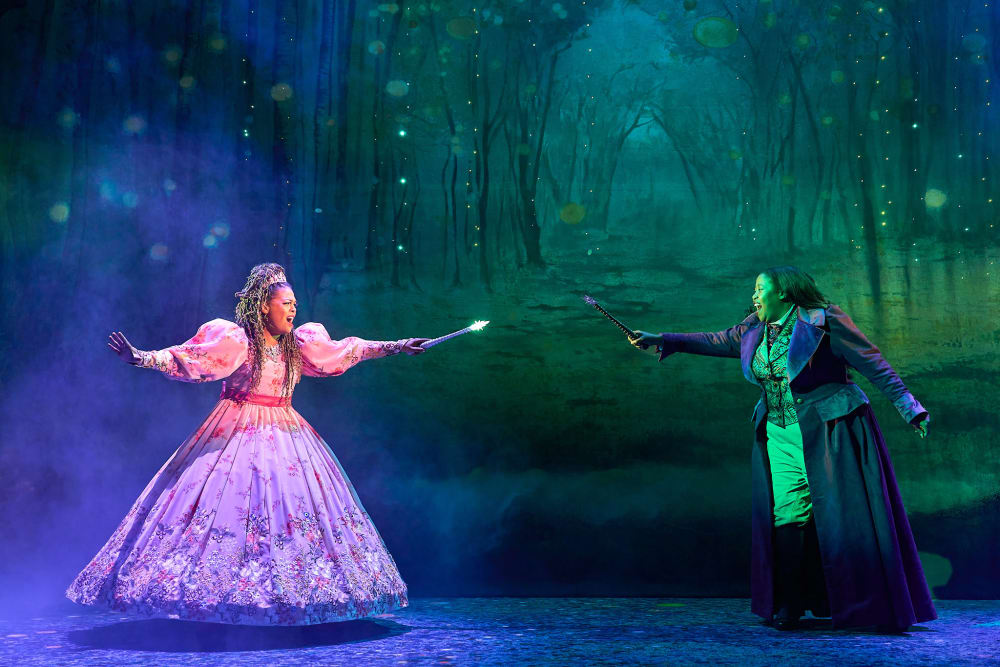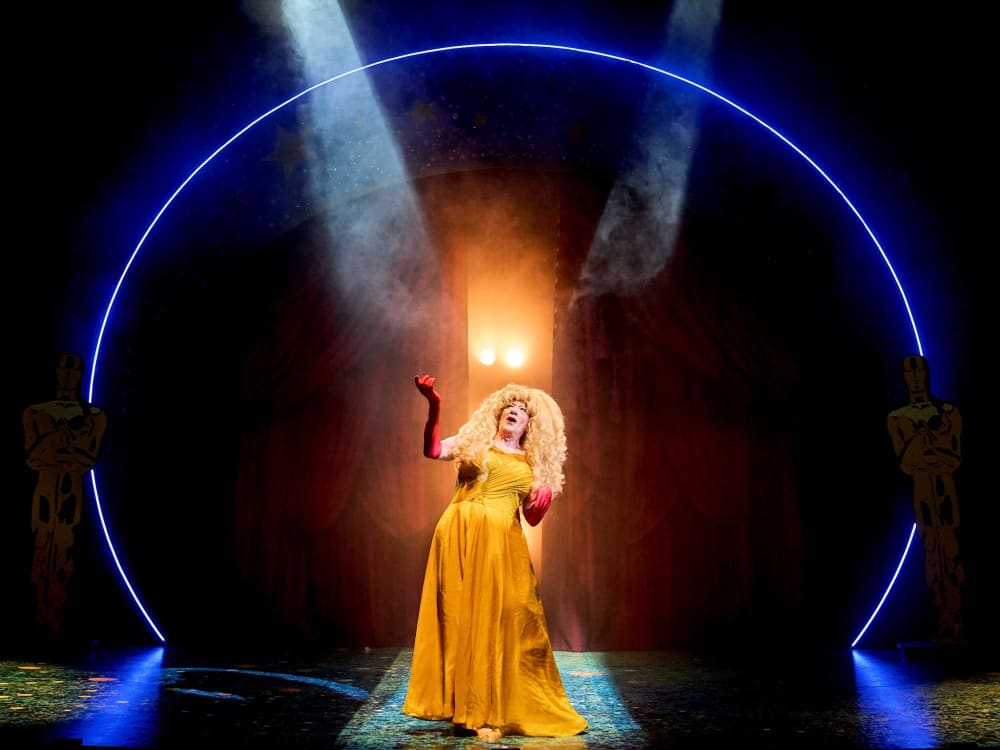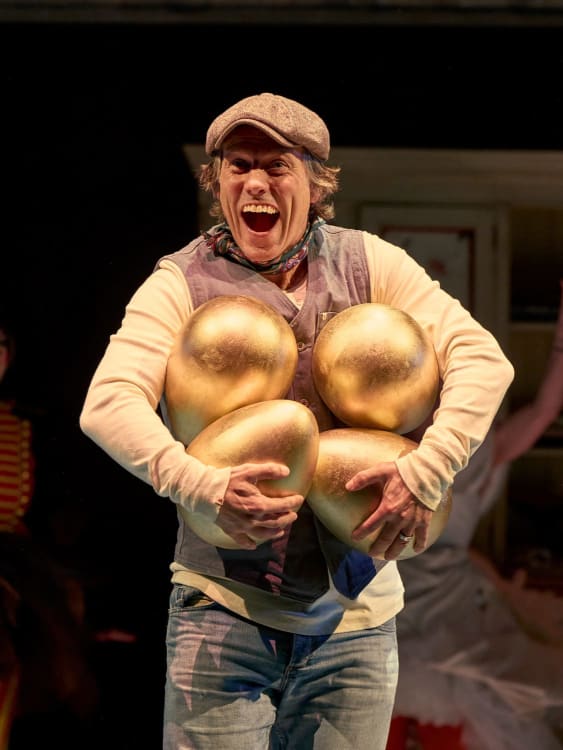 As he showed with his 80th birthday tour in 2019, Sir Ian McKellen can fill a venue the size of The Lowry's Quays Theatre if he is just standing on stage talking, but he has returned at almost 84 to one of his great passions, panto (a great many of the cast of another of his loves, Coronation Street, were in the audience on press night), with a pretty solid cast and team behind him.
Mother Goose may not be too familiar now, but it was once a popular panto story, significantly at Covent Garden in 1806 and Dan Leno's famous portrayal of the title character in 1902. Jonathan Harvey's version is set in an abandoned Debenhams department store, where Mother and Father Goose—McKellen and John Bishop—and their not-too-bright son Jack (Oscar Conlon-Morrey) run an animal sanctuary where, though they have no money, Mother Goose will not turn away any animal in need (unlike "that Cruella Braverman").
Oh yes, there are some political digs in the script, including a few mentions of the "three-week Prime Minister" and a pig called Boris in an old school tie in the kitchen slosh scene who keeps popping out of the cupboard (or is it a fridge?) to be told to get back in as "there are no parties". Nothing subtle or wildly original for satire, but well-aimed and the gags certainly landed with many in the Salford audience. There's also a lot of innuendo, also not subtle but well delivered and probably over the heads of the younger members of the audience.
Father Goose is reluctant to take on the goose who had an unfortunate encounter with an aircraft, Cilla Quack, due to their financial situation—Jill from the electric company (Simbi Akande) has visited with threats, although Jack had a thing for her—but all seems to be ending happily when menopausal Cilla, between hot sweats, starts laying golden eggs.
But just as good fairy Encanta (Sharon Ballard) was looking smug, bad fairy Malignia (Karen Mavundukure) throws a spanner in the works by offering Mother Goose worldwide fame if she gives her the goose. Act II opens with pictures of her with film stars and world leaders, then she is at the Oscars (in production number "One" from A Chorus Line) and London Fashion Week (singing "I'm Too Sexy" by Right Said Fred). But of course fame isn't everything and she misses her family and even Cilla, whom she has to rescue from the King of Gooseland (Adam Brown)—pleading her case with the "quality of mercy" speech from The Merchant of Venice.
The story is strong enough to hold it all together but loose enough to allow for some messing about within it. There are standard panto elements, including a messy cooking scene, some "oh no it isn't" banter with the audience, the ghost gag on the bench and a songsheet number, although the latter two are quite short and neither involves the Dame.
Largely, this is the McKellen and Bishop show, as you might expect, but others take their chance to shine when they get them. Conlon-Morrey is in the usual comic role and makes the most of it when he gets the chance, but Bishop has most of the comic's material and stage time. Genevieve Nicole comes on as a lively Puss in Boots, then later, at the Tower of London, she is a very physical Camilla Parker Bowles, flirting with Bishop before going off for gin.
Casey's Cilla is a stand-out character, giving a stunning rendition of "Don't Rain On My Parade", while Adam Brown (who appeared with McKellen in the Hobbit films as dwarf Ori, the one who said, "I don't like green food"), who is the goat in the sanctuary, also gives a show stopping performance as the King of Gooseland. The others in the ensemble are also distinctive, from Becca Francis's nun Penguin to Richard Leeming's rather troubled Bat, possibly in need of some counselling.
The two headliners work very well together both comically and emotionally, with lots of references to McKellen's past work—the Lord of the Rings music kicks in when he mistakes what someone said for "Orcs" and has to be brought back out of Gandalf mode. I think there was some genuine corpsing and improvisation, although it is common in pantos these days to fake this (which always makes me feel slightly cheated), and I'm sure there was some of this as well. But they both know how to hold an audience, and do so excellently, both solo and together.
Director Cal McCrystal knows how to stage comedy, so there is some very effective physical comic business as well as the gags, including some quirky elements like the interior of a plane that, for no apparent reason other than it looks funny, is on a giant rocker.
This is the penultimate stop on the tour and tickets may be hard to come by, but if you do get the chance to see it, expect a great night of just pure joyous (occasionally suggestively filthy) fun.
Reviewer: David Chadderton