Mother of Him
Evan Placey
Jacob Thomas and Oliver Mackwood Productions in association with Park Theatre
Park Theatre (Park 200)
–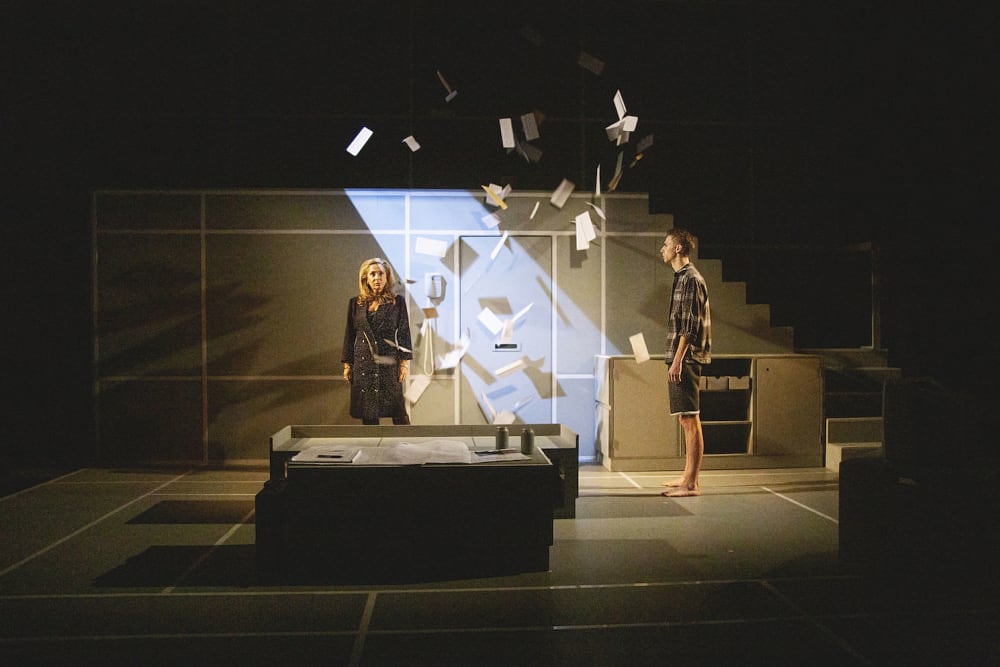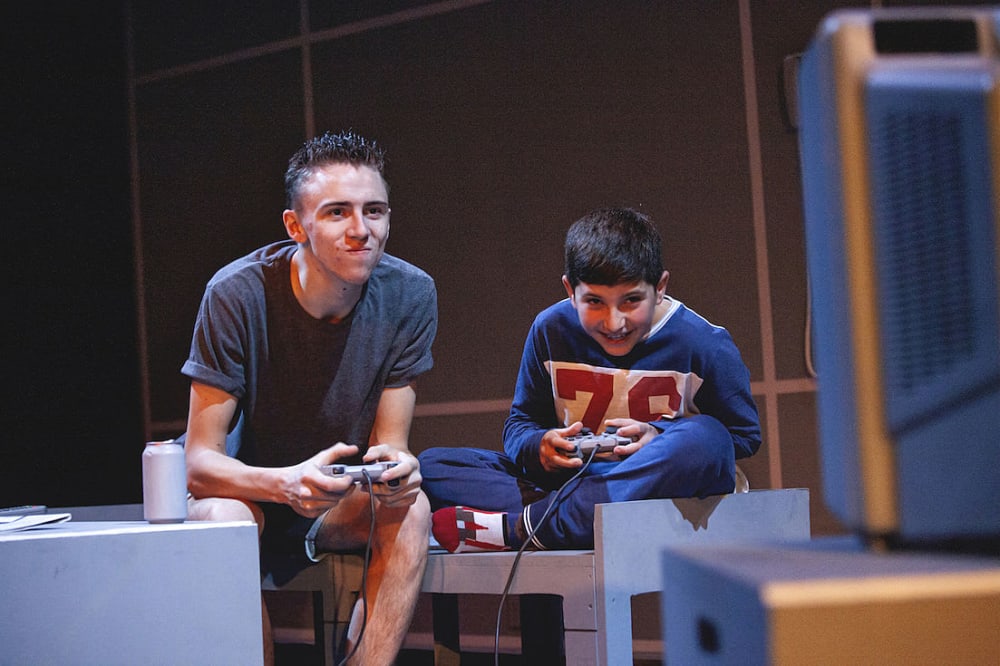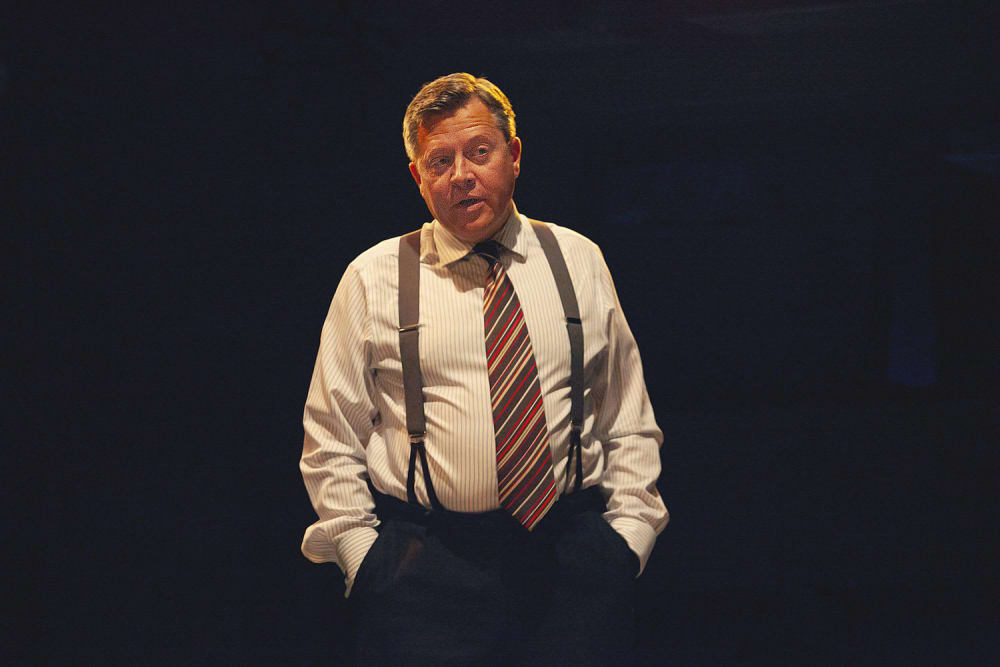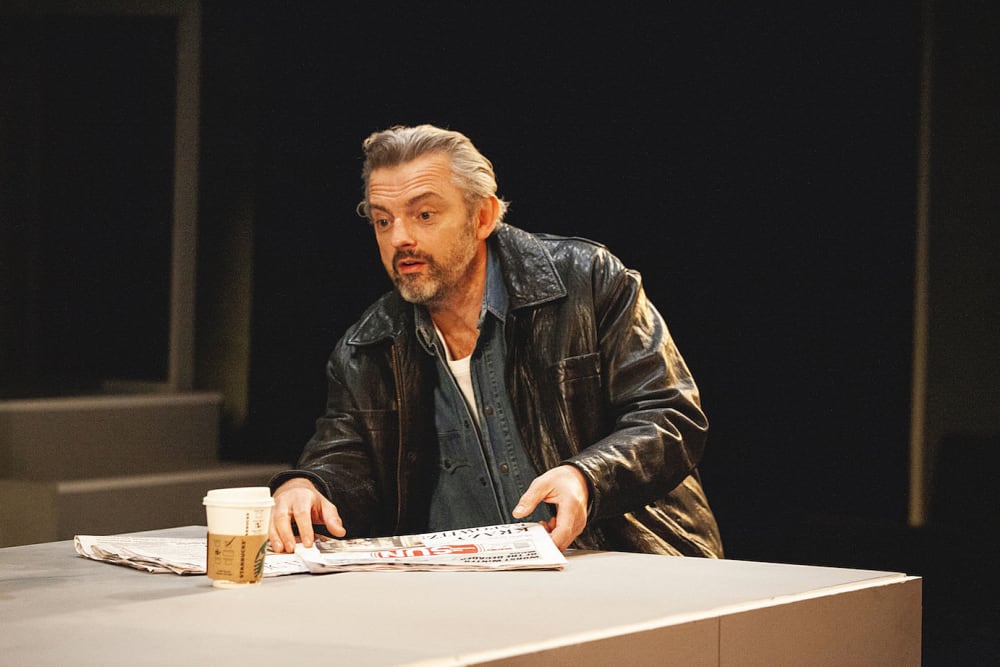 Lee Newby's setting for this decade-old play (it premièred at the Courtyard in 2010) is all grey marked out with white lines like a Mondrian made on a rainy day. At first, it looks like a pedestal desk in front of a higher level suggesting a courtroom, which isn't far wrong for at its heart is a trial and most of its characters are up for judgement in some way.
In fact the trial is elsewhere and in the future: this is the Toronto home of the Kapowitz family, its modular elements rearranged will become different rooms in it, and the date is December 1998. Wisely, Max Lindsay's production doesn't update for media behaviour and the way information spreads is an essential part of this story and the coming of iPhones and wide use of social media changed things.
Brenda Kapowitz is trying to get her eight-year-old son Jason off to school but half her mind is on the shopping mall project she is designing—it's going to be a "state of the art shopping experience"—and the other half on her older son Matthew who is still upstairs.
It's not long before we discover that seventeen-year-old Matthew has been accused of raping three girls in their sorority house—and he doesn't deny it. Brenda has engaged family friend and lawyer Robert Rosenberg to produce a defence for him.
Matthew is already under house arrest, he can't go outside unless with his mother or his lawyer. Can Rosenberg make a case that his act was an aberration by a regular good guy and hard-working student? Can the blame be made to lie largely with the guy who was with him? Can the image of this single-parent family be presented as spotless? Husband Steven split several years ago. With press and paparazzi waiting outside the house, can Jason be shielded from the attention? Already there are difficulties with schoolmates.
Evan Placey's play presents a situation, not answers. Scott Folan's gentle Matthew seems an ideal elder brother, a student with a previously immaculate record. While others seek reasons, he simply admits his guilt. His lawyer is increasingly frustrated; his mother grows more distraught, anger alongside maternal feeling.
Simon Hepworth is the increasingly frustrated Rosenberg and Neil Sheffield plays Brenda's ex-husband who turns up wondering if his absence was a relevant factor, which she takes as an implication that she couldn't bring the boys up properly alone. "I showed him how to respect women," is her rapid response but Tracey-Ann Oberman's powerful performance presents a whole range of emotion from her motherly feelings to a defiance that produces a first act ending of great theatricality, which the production has carefully prepared.
While this is Oberman's evening, she especially shares it with the young actor playing Jason. On press night this was Matt Goldberg (who shares this demanding role with Hari Aggarwal). There is a touching scene when the light is provided by Hanukkah candles that gives a glimpse of how close this family can be.
Reviewer: Howard Loxton