Mother Came Too
Tim Elgood
Derby LIVE
Guildhall Theatre, Derby
(2010)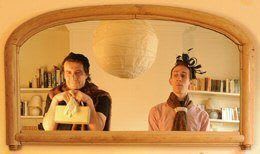 Tim Elgood has had twelve months to remember. His play with songs, The Pros, the Cons and a Screw, which had been commissioned eight years previously, was the first production to take to the Derby Theatre stage when the former Playhouse reopened. Now his current offering Mother Came Too is getting its premiere in the intimate surroundings of the city's Guildhall.
Mother Came Too is completely different from the prison piece; it's a two-hander whereas The Pros featured ten actors who were also singers and musicians.
Elgood, a qualified social worker, spent three weeks in three different prisons for his research into the previous play; this time he's drawn on the experiences of his extended family to catalogue relationships between parents and their adult children.
The playwright actually had Derbyshire actor Steven Blakeley in mind for the role of Adam when he wrote Mother Came Too and he was given the part.
Blakeley, best known as PC Geoff Younger in ITV's Heartbeat, worked with Elgood on youth and community theatre projects in Derby which were directed by Derby LIVE'S artistic producer Pete Meakin. The three of them have come together for Mother Came Too and are joined by Sean O'Callaghan who takes the role of Patrick.
The play begins by revealing the prickly relationship between two flatmates. For whatever reason, Elgood doesn't reveal straightaway that Adam and Patrick are actually father and son.
Adam is the dominant younger one who likes everything in an orderly fashion while Patrick is more adventurous and is in danger of growing old disgracefully. That leads to a confrontation, with Patrick exclaiming, "You sound like your mother," to which Adam responds, "That's because mothers make sense."
The two actors show their versatility when they play female roles too. Blakeley is composed and confident as Adam's mother Elaine, on one occasion sitting on a toilet with her knickers around her knees because she refuses to meet the guests at a family party.
O'Callaghan perfectly portrays the character of Adam's Nan, mastering the difficulty of using a zimmer frame yet also capturing the character's wicked humour.
There's also an insightful scene featuring Elaine and Patrick who've had a trial separation after 29 years of marriage; they try to patch things up at a self-help group only to end up bickering continually.
By the time the second half comes around, Blakeley and O'Callaghan don't need costume changes when they flit from one character to another; their voices are enough to carry the scenes.
The most poignant scene features Nan standing alone in a nursing home determined that she won't end up there; it's a sad picture. Arguably Elgood might have written more moments like that, although the play succeeds as it is because everyone can identify with the characters.
Meakin's direction brings out the best in the two actors while Andy Miller's set, with furniture in the shape of pieces of a jigsaw puzzle which don't quite fit together, is a clever touch.
Elgood reckons his mum won't see Mother Came Too because "I just know it's going to be offensive". But it's a good night out and you shouldn't have any problems taking any grown-up member of your family to see it.
"Mother Came Too" runs until October 30th
Reviewer: Steve Orme