Mother Goose
Andrew Pollard
Georgian Theatre Royal, Ricmond (N. Yorks)
(2010)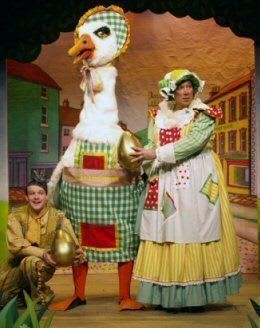 Panto in Britain is as traditional as Christmas dinner and there couldn't be a more traditional venue than the oldest working theatre in Britain. Mother Goose is The Georgian's first professional, in-house pantomime production for more than a hundred years; a brave and, hopefully, progressive move for Warnock Kerr, Producer and Theatre Manager. This is panto as it should be with no jumped up soap star fugitives or any fading comedy duos, just the perfect blend of story, spectacle and slapstick and fabulous value for money too.
Dominic Goodwin's matronly, bosomy, dame Gertie Gloria Gaynor Gaga Goose is the gregarious good egg and in his own words 'dressed up like a boil-in-the-bag, human Ferrero Rocher chocolate'. As sure as eggs is eggs, he is most definitely and delightfully totally nuts. His ad lib with a very sporting Mayor of Richmond, Barry Heap, who was sat perilously close to the stage, was utterly hilarious. Squire Dilly Dally, a really likeable Gary Bridgens, wants the rent and Benificent (an energetic Thomas Frere) grants Mother Goose a magic wish. As the golden egg, get-rich story unfolds, we meet Priscilla, the giant gingham goose, an expertly wooden Nick Cassen who propels the golden eggs from her nest in the theatre rafters, down a chute into the hands of Billy Goose (Joe Fleming) for a bit of very clever big egg juggling. The Boo Hiss baddy, Malignia, is the glamorous Penny McDonald and her able helpers are from the Janet Seymour's School of Theatre and Dance in Reeth.
Director Tony Lidington has produced this family friendly show with wealth of traditional theatricality and some fabulous topical laughs like Mother Goose berating local councillors who were also in the audience, for not gritting the alley behind the theatre. Costume designer Silvie Sarjeant must have toiled into the wee hours to produce such rich and exquisite costumes. However, it is set designer and scenic artist, Simon Pell who must surely steal this show with an amazing array of beautifully painted scenery which blended perfectly into the theme of the theatre and made the whole experience perfect. I particularly liked his clever UV painting which turned Goose Hall into the Hell Hole.
This is the best panto I've seen in a long time, I loved every minute and there's no need to borrow a child to go and see this production: take the child within, you'll have a great time. Oh yes you will !
To 9th January
Reviewer: Helen Brown