Mother Goose
Written and directed by Susie McKenna
Hackney Empire
(2008)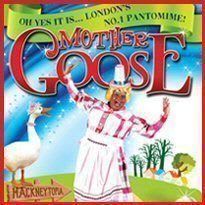 No Good Fairy in this panto but a couple of witches: the gorgeously rich-voiced Sharon D. Clarke as the good one, soul-singing Charity, and writer/director McKenna herself as Vanity, the bad one - both performing full throttle to set going a show that is wonderfully over the top without ever losing its warm relationship with its audience. King Cole's Hackneytopia is peopled with returning Hackney favourites. Clive Rowe is back as Mother Goose -- he's a dame with a golden touch who even gets to sing 'Goldfinger' - Kat B as her son Silly Billy and Tony Whittle and diminutive delight Tameka Empson (yes, it's her 'innit') as Baron Bonkers and his niece Freda who both work for Vanity.
It starts off with big-headed Prince Jack (but Matt Demsey's charm underlies his pomposity) expecting to marry Princess Jill (delightfully fresh Abigail Rosser) - but we know better, for Billy is bats about her and of course he's our favourite. Kat B could win any young audience over. There is an enchanting Priscilla the Goose from Alix Ross: how she manages to stand up in the costume is amazing enough but she with only a tinkle of bells for a voice still gives her a real personality.
A chorus of nursery rhyme and fairy-tale characters provide sprightly support - including some tinies who perform Carl Parris's choreography like seasoned troupers, while Parris himself having a cameo as Mother Goose's slimmer mirror double from choreographer Carl Parris when she is tempted by Vanity into a magic beauty treatment that gets her into difficulties.
One or two of Lotte Collett's sets remind one that this is a show without a big West End budget but there are large helpings of glamour and glitz and the whole show has an energy that fills even this large house with warmth and laughter.
Until 10th January 2009
Reviewer: Howard Loxton