Mother Goose
Eric Potts
Coliseum Theatre, Oldham
(2009)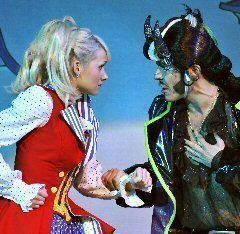 Every year, Oldham Coliseum puts on what it refers to as a 'traditional' Christmas pantomime with tickets going on sale a year in advance and many sold-out performances before it opens.
This year's Mother Goose certainly has many elements that have become part of the modern tradition of pantomime, even though some are starting to fall by the wayside: a male dame, female principal boy, camp baddy, community song, "oh no it isn't", "it's behind you" et cetera. The script has been adapted to have lots of local references, including the setting in the town of 'Oldhamia', and the score, played on keyboards, bass and drums, contains a good mix of songs from musicals and current pop songs.
Musical numbers include 'I Am What I Am' from La Cage Aux Folles, 'We Go Together' from Grease, 'Popular' from Wicked and 'Be Our Guest' from Beauty and the Beast, and there are recent pop songs from The Killers and Lady Gaga plus older numbers such as 'Blame It On The Boogie' and 'Ghostbusters'.
The script does have a recognisable story, unlike many pantomimes, and the jokes range from the topical to gags with a long pantomime pedigree. Kevin Shaw's direction keeps everything moving along at a brisk pace, although there were certainly moments where this lively audience was obviously losing interest in the action as the conversation level rose. Fight director Renny Krupinski does a great job with the lengthy final battle scene, with some impressively-synchronised sound effects.
Generally, the PA sound is quite poor with poor balance between the band and the vocals and a vocal sound during the songs that manages to be both harsh and muffled. The mics are also used for the dialogue, which were needed to get above the conversation in the auditorium (by no means all of which were children's voices).
Fine Time Fontayne in the title role steers the whole production expertly, has some extremely impressive costume changes and delivers every comic line with perfect timing. Adonis Anthony is like an even camper version of Alan Rickman in the 'Harry Potter' films with a dash of Tim Curry thrown in, which works very well. Although he made a big fuss about his microphone not working during the opening number, Richard J Fletcher brought some impressive physicality to the role of Billy Goose. Patrick Bridgman has very good comic delivery as the Squire, although his jokes about MPs' expenses fell flat with this audience. Linzi Matthews is a little bland as Fairy Feathers but gives a very nice rendition of her one song 'Popular' and Nicole Evans and Amy Rhiannon Worth fill the principal girl and boy roles perfectly well.
This polished production supplies pretty much everything you'd expect from a pantomime with the addition of a reasonable story and a few good gags that even old and jaded theatregoers can laugh at. It does, however, seem rather long for young audiences and could have benefited from being a good half hour shorter; by the time the community song begins the audience has been sat – including the interval – for two and a half hours. However there is much to enjoy here and if you wish to catch a real pantomime this year you could do a lot worse than this offering from the Coliseum.
Running until 9th January, 2010
Reviewer: David Chadderton