Mother Goose
Jamie Alexander Wilson
Magic Beans Productions
Stag Theatre, Sevenoaks
(2011)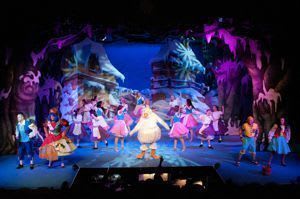 For the past two years, pantomime in Sevenoaks has gone from strength to strength and this year's festive offering Mother Goose is a golden production indeed.
Times are not only tough in Skintvale but also in Pantoland, and as the prologue begins to weave the tale of Mother Goose's good heart turned to stone by greed, the band are reminded by the Demon King that they could easily be replaced with an iPod. Thankfully, Magic Beans Productions are a stickler for quality and the four piece band comprising of keyboards, percussion, woodwind and trumpet are well and truly alive under the musical directorship of Debbi Parks. A rich and vibrant sound makes this band the envy of many other regional theatres as they add a glorious layer of atmosphere to each and every scene and fill the auditorium with life during the show's big musical numbers.
This year's production's Principal Boy and Girl are both incredibly strong singers, with award winning recording artist Nate James as Colin and Anna Kumble (90s pop star Lolly) as Jill. James' musical numbers are a treat to listen to as his soulful voice lifts the audience and gets them swaying. Kumble's rendition of 'If I Can't Have You' is particularly touching and demonstrates that this production has a cast of strong performers who enjoy participating in this particularly British tradition.
Throughout all of Pantoland you won't find a more deadlier Villain than Leslie Grantham's Demon King, ready to destroy all of mankind and spread greed and unhappiness in his wake. His resonating voice spoken over atmospheric underscoring sends shivers down the audience's spines with his evil laugh a signifier for pure wickedness.
Luckily for all humankind, Fairy Pureheart in the form of Laura Jane Matthewson is an amiable match for the Demon King, who, with the help of Mother Goose, sets out to prove that the human race is kind and true after all. A first time fairy, Mathewson gives the performance her all having won Sevenoaks' Panto Factor earlier this year, but could do with relaxing a little in order to tone her frenetic fairy down.
In the title role, Robert Pearce excels as Mother Goose. One of the country's youngest professional Dames, Pearce looks set to step firmly into the heels of the late John Inman with a fruitful pantomime career ahead of him. Required to demonstrate ugliness and villainy as a transformed Mother Goose, Pearce's days as an Ugly Sister have served him well and he has the audience booing vehemently, only to be forgiven when his cross dressed alter ego realises her wicked ways.
Together again with Ant Payne for the third time at the Stag, the two execute the Broken Mirror Gag with great skill. As Mother Goose's son Silly Billy, Payne has the audience in the palm of his hand and rolling in the aisles from the moment he enters and attempts to sled down some stairs. His rapport with the audience is so strong that the children relentlessly shout "Hiya Billy" as soon as they sense his arrival and woe betide anyone who castigates him for his foolish behaviour. His tomfoolery in the Schoolroom Scene with a sublime Terrence Hardiman as the slightly schizophrenic Squire-come-bailiff-come-schoolmaster-Skinflint is yet another fine example of Payne's ability at physical humour and slapstick as his knees comically contort in ways that not even yoga can teach.
Jamie Alexander Wilson's script combines all the necessary pantomime ingredients to create a thoroughly enjoyable show with a strong moral message. However, choosing to dispense with the usual 'Pool of Beauty' aspect of the narrative does bring about a few problems for the production. Act One ends on a high with Priscilla having laid her first golden egg, thus relegating Mother Goose's transformation to Act Two. But a magical transformation never occurs, with the Demon merely stating that Mother Goose is beautiful in order to fool her into parting with Priscilla. Had the beautification transaction occurred in Act One, the production's narrative would feel tighter and a rather extended hair joke to go with Payne's bald Silly Billy could be cut. A trek to the Pool of Beauty complete with transformation sequence would rid the production of some of its unnecessary padding and permit Act Two to focus solely on the title's quest narrative as Mother Goose comes to regret her actions and seek redemption.
With a finale stage full of 34 performers singing and dancing to the tunes of a four piece band, the pantomime at the 448 seater Stag Theatre boasts one of the richest and most vibrant productions in Pantoland. The stage bustles with life and the kaleidoscopic costumes courtesy of Karen Holmes make this Mother Goose a most enjoyable carnival of colour.
'Mother Goose' runs at the Stag Theatre Sevenoaks until 1st January 2012.
Reviewer: Simon Sladen