Motherland
Created and directed by Steve Gilroy
Northumbria Live Academy
Live Theatre, Newcastle
(2007)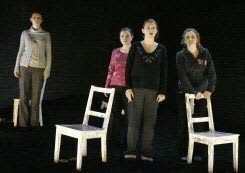 Verbatim theatre has a power all of its own. Because we know that the words we are hearing are the actual words of the participants in the drama, they have a resonance which no playwright's carefully crafted lines can ever have. Sometimes they are sparse and simple, sometimes complex, sometimes deeply emotional and sometimes attempts to hide emotional depths
In the case of Motherland they are the words of mothers, sisters, wives and girlfriends of male and female soldiers, some still alive, some injured and some killed in conflicts in Northern Ireland, Iraq, Bosnia, Kosovo and Afghanistan. Some, such as the Military Policemen killed in an ambush in Iraq, were involved in well-known incidents, others are unknown (except as statistics) to the general public.
The format of Motherland is simple: four actresses, playing sixteen parts between them, address the audience, standing or sitting, as their originals spoke to them and the director during the three month research part of the project. But this simplicity requires tremendous skill on the actresses' part. With little outward show (a few minor costume changes) they have to portray a wide range of characters from teenagers tthrough middle-age to elderly, relying purely on voice and body language.
Rachel Adamson, Charlotte Binns, Eleanor Clarke and Helen Embleton succeed magnificently, bringing many in the press night audience (which included some of their "subjects") to their feet at the end of the performance. What is remarkable is that these young actresses are still essentially students. The Northumbria Live Academy is a partnership between Live Theatre and the University of Northumbria which offers an MA in Theatre and Performance Practice, bridging the gap between academic study and professional theatre through working with both the university and Live. It is the only course of its kind in the country.
Deeply moving, beautifully performed and dealing with an important personal and political issue, this is excellent theatre.
"Motherland" runs until Saturday, 8th December
David Chadderton reviewed the 2009 revival on tour in Manchester
Reviewer: Peter Lathan