The Mountaintop
Katori Hall
Theatre 503
(2009)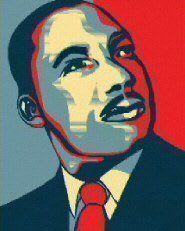 James Dacre's startling production of US playwright Katori Hall's The Mountaintop submerges you in its world from the moment you walk into Theatre 503's compact but versatile space. We walk through a door numbered 306 into a motel room typical of a thousand American movies (Libby Watson's design is pitch- perfect, down to details such as US plug-sockets in the walls). Everything is tinny and beige, Styrofoam coffee cups litter the room and there is an imposing window behind which the rain pours continually and signals the dangers lurking outside. It's not, perhaps, where one would imagine the legend that is Martin Luther King, spending his final night here on earth.
But King is here, shouting through the door of 306 for his Pall Mall cigarettes before taking his shoes off to reveal socks with holes in them and treading restlessly around his room. David Harewood's portrayal is impressively robust. The actor is submerged in both the voice and physicality of a man bursting with energy, ideas and fear.
It is the night before his assassination, and he has just returned from another rally a tired man.
Into King's room strides the beautiful and coquettish Camae, a maid here to bring him coffee and, it transpires, much more besides. Camae is a brazen young woman, not afraid to 'cuss' and speak her mind. The pair begins to banter about King's celebrity, lifestyle and ethos. As he manages to hoodwink a few cigarettes out of her it seems as though he is determined to bed her. They bicker about the black community's engagement with his rhetoric and Hall cleverly exposes the prejudices from the community towards their white oppressors, as well as the difficulty in engaging people to get them out and onto the streets.
After a series of foreboding crashes of thunder and lightning (Emma Chapman on lights and Richard Hammarton on sound both add sensitively to the production), Camae is suddenly exposed as a fake. Is she an ingénue sent to expose him as an adulterer? Harewood explodes as he rips the motel room to pieces looking for microphones and Camae is forced to reveal her true identity. It's a big leap for the audience, and for a few moments it all seems too easy. But Hall's writing is exceptionally astute, comic and moving and in the hands of Dacre it seems incredibly plausible.
For the remainder of the play we watch King struggle to come to terms with his impending death. During one hilarious scene both he and Camae speak to God on her cell phone (she is black and proud of it!). As we spiral towards the inevitable, King and Camae touchingly help each other to both understand their lives and their deaths.
Harewood's portrayal of King is never anything but impressively powerful, the slightest gesture or flick of the eyes compelling. As Camae, Lorraine Burroughs is more than a match for him. Her role is terrifyingly challenging which she seems to relish. In a stunning monologue she dons King's jacket and shoes to give her own version of a rally speech. Towards the end, she narrates her own demise with a sensitivity that makes writing which, in others hands could seem cloying and clichéd, touching and poignant.
The Mountaintop is a powerhouse of a production and a play which should make a name for Katori Hall. Never does she idolise King too much; instead she constantly reminds us that he is just a man, liable to making mistakes. It is a triumphant and human study of the man made saint.
Until 4th July
Philip Fisher reviewed the transfer to Trafalgar Studio 1
Reviewer: Terry O'Donovan