The Mountaintop
Katori Hall
Derby LIVE
Guildhall Theatre, Derby
(2011)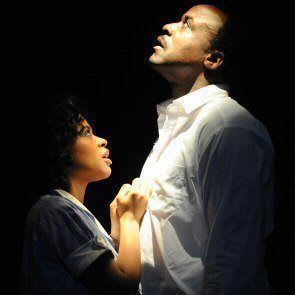 It was one of the most moving nights I've ever experienced in the theatre. Ariyon Bakare took his curtain call seconds after delivering his final, uplifting speech as Martin Luther King Jnr and had to fight back tears. Sections of the audience were on their feet paying tribute to an extraordinary performance in an exceptional production. It was nearly too much for Bakare.
Bakare's journey is almost as eventful as the one taken by Katori Hall's play. Its first outing was at Theatre503 in London before it transferred to Trafalgar Studios in the West End. It earned Hall an Olivier Award for best new play and it's due to open on Broadway in the autumn with Samuel L Jackson and Halle Berry.
Now Derby LIVE has secured the regional premiere and is staging it in its intimate, 242-seat Guildhall Theatre.
The concept of The Mountaintop is simple: Martin Luther King is holed up in a hotel room in Memphis, Tennessee. He's just addressed 2,000 people with what became known as the "I've been to the mountaintop" speech in which he said he'd seen the promised land. It turns out that it's the night before escaped convict James Earl Ray shoots him dead on the hotel balcony.
Hall looks at the figure behind the legend: we don't just see a world leader of the civil rights movement, we also discover a man who's afraid of thunder; a man who has doubts about his abilities; a man who, like anyone else, can succumb to temptation.
The Mountaintop starts with Dr King returning on a rainy night to his cheap, dingy hotel room. He struggles to write his next speech and needs coffee so that he can work.
The arrival of waitress Camae shows other sides to the Baptist minister: he's a loving, caring man who misses his family but he struggles to be faithful when he's faced with a pretty girl a long way from home.
Ayesha Antoine is a perfect foil for Bakare: she's excellent as the sassy, swearing Camae who likes her men "young and wild" and she exudes mystery as the waitress who's not what she seems. She also shows that she can hold a crowd when she dons King's jacket and shoes, stands on a chair and delivers an arousing speech of her own.
Katori Hall intricately leaves you on the edge of your seat wondering exactly who Camae is. At times there's scope for the play to dissolve into ridiculousness as King speaks to God on the phone and pleads not to be taken yet because he's got so much work to do on earth. But the playwright and director Tom Attenborough skilfully build the play to a dramatic climax.
Bakare's performance is simply stunning. He goes through a whole range of emotions, including embarrassment when Camae sees through his bravado; fear not just because of the thunder but also of his impending death; hysteria when he realises he can't leave the hotel because of deep snow; and sorrow when he's unable to speak to his wife on the phone.
And then comes the rallying call for someone else to pick up the baton after him. There's film of all the inspirational activists who follow Dr King, ending with president Barack Obama. The dream becomes reality. The production reaches its own pinnacle.
"The Mountaintop" continues until April 9th
Reviewer: Steve Orme