The Mozart Question
Michael Morpurgo, adapted by Simon Reade
Scamp Theatre
New End Theatre and touring
(2009)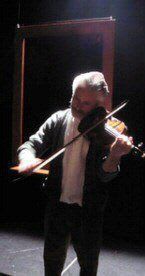 A scene by the Academia Bridge in Venice: a young boy in pyjamas sitting on a bicycle listening to a busker who was playing a violin. That was the inspiration for this story by Michael Morpurgo. It is told by Paulo Levi, an internationally acclaimed violinist, his hair already greying, who looks back to being that boy, earning his pocket money sweeping up the clippings in his father's barber shop and secretly learning to play the violin.
It is beautifully crafted: the boy's secret is paralleled by other secrets that his parents eventually reveal that take us into the darkest hours of their lives and of mid-twentieth century history. In Simon Reade's adaptation, directed by Julia McCone, this becomes an engrossing piece of theatre, making a powerful impact in just 55 minutes.
Andrew Bridgman's performance as Paulo makes you wish that it were longer. Music is central to the piece. As Bridgemont plays the violin live or we hear recorded, music it gives an emotional lift to the production but, more than that, it makes the audience doubly aware of the 'Mozart Question' of the title: our response to music and what happens when something we love becomes associated with something horrible and brings a sense of guilt. Paulo's parents and his teacher have met before, they share an experience and a memory that is painful to live with and Mozart especially is part of it
I'm not expert enough to know whether Bridgemont gives Paolo a Venetian accent but his hands seem very Italian and, as he shares his story with the audience, he moves easily from the mature man to the lively boy or takes on the character of his parents or his teacher. When you look into the heart of the Holocaust it would be easy to be melodramatic but the way the story is told and the sincerity of this performance avoid hollow histrionics. It will draw your tears, but your smiles and chuckles too.
At New End Theatre until 4th April 2009
Reviewer: Howard Loxton