Mr and Mrs Moon
Tim Webb
Oily Cart
Stratford Circus (Circus 2)
–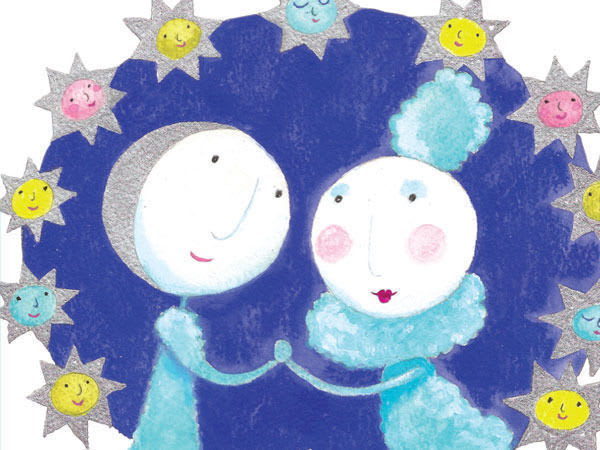 This is an interactive, immersive adventure for 2- to 5-year-olds and their friends and families. It lasts about 45 minutes and isn't like going to theatre at all if panto is what you are used to.
First, you have to take off your shoes and socks. When did you last do that before you saw a show? Then you collect a bucket and spade. What is going on?
You are off to the beach and that's all sand as the lady in the big red hat bedecked with feathers tells you. She says her name is also Sandy and that you are going to build sand castles. There is a man with a shell and two little flags on his hat who is helping with your shoes and another who says that he's a sailor (he's stage manager Matt Wilson really) handing out the buckets. They are all coming with you.
They lead you into the theatre where a wooden path circles down to the beach, which is a big circle of sand with a little wall around it you can sit on. There is a round sort of window on one side and through it you can see the sea, its waves rolling forward. If you are big enough to sit there on your own, the grown-ups who come with you can sit on another sort of wall just behind you.
Sandy (Natasha Magigi) shows you how to stamp on the sand to flatten it and uses a board on a stick to flatten out the centre and draw a pictures on it of the man in the shell hat (Griff Fender), showing how you can draw in the sand as well. Then the man asks if you know how to build sandcastles and he makes one. Fill the bucket, flatten the top and tip it out. It's like a song and you can all do it together.
That's just the beginning. What's happening above your head? That big white bundle up there is the Moon and someone is coming out of it. It is Mrs Moon (Grace Turner), all gold and spangly, and she's coming to join you, unravelling a ribbon of cloth to gradually climb down cleverly and very perilously suspended. It is a display of circus corde lisse work, pretty spectacular at such close quarters.
Mrs Moon (her name is Molly but perhaps it wouldn't be polite to call her that) wants to know all about you and how to make sandcastles and she invites you to the moon. You can get there by drawing a ladder in the sand and then climbing up. It's let's pretend of course, but everybody is doing it, even the grown-ups.
Upon the moon there's tea and biscuits (pity that they are pretend as well if you happen to be hungry) and two robots. It is very still; the wind has been captured and put into a big balloon—until someone lets it out and then it blows and blows.
You can't use ladders to get down from the moon: you have to fly. That gets you back to the beach and then it's time to say goodbye to the Mrs Moon, to leave the beach, wash the sand off your feet and get ready to go home.
You've danced, you've sung, you've built sand castles, you've drawn sand pictures and you've been to tea on the Moon. Now that doesn't happen often does it?
Oily Cart are experts at this kind of interactive performance. Adept at handling however a child reacts, skilled at stimulating the imagination and building confidence. This is a play that is play.
There is music when needed from Catriona Price, sitting on a little pier-like platform. It is composed by Max Reinhardt and herself and played on her violin and an electronic instrument that she just moves her hands over in the air.
Tim Webb devised and directed the show, Claire de Loon designed the costumes and the welcoming environment.
Oily Cart has created yet another of their apparently simple but carefully crafted immersive entertainments, shows that their target audiences love.
Reviewer: Howard Loxton