In the Footsteps of Mr Butler
Ian McMillan and Jon Palmer
Full Body and the Voice
Theatre Royal Studio, York
(2006)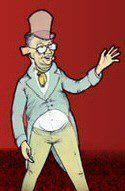 Full Body and the Voice is a pioneering theatre company whose work with learning-disabled actors has already gained a strong regional reputation. In the Footsteps of Mr Butler is a new departure for the company in that it combines new writing by Ian McMillan and Jon Palmer with excerpts from an existing play - Sheridan's The Rivals. It is based (very loosely) on a true story, that of actor-manager Samuel Butler who founded the Georgian Theatre Royal at Richmond. This little gem of a theatre somehow managed to survive almost unchanged into the 21st century and was responsible for commissioning this play.
A cast of seven, two of whom have Down's Syndrome, enact the story of a band of strolling players. The Butler family has fallen on hard times and are on the brink of ruin - one performer was press-ganged in Whitby, another fell pregnant in Pickering - and Samuel Junior (Ian McMillan) is at his wits' end. His brother James (Terence Mann) feels that his talents are wasted in rural Yorkshire - especially when he has to play Lydia Languish in drag - and their disabled sibling George (Kevin Dyson) is a much-loved but undervalued member of the troupe. Leading lady Alice (Judy Emmett) has taken to writing mysterious love letters, as has the company's pushy American actor (Jeremiah Krage). The company's second disabled member is the Girl (Sarah Morris), dumped by her father and taken in to be a sister for George.
Will Samuel be able to keep his little troupe out of the workhouse? Will James take advantage of the dearth of actors in America? Will the Girl be capable of taking over the role of Lydia Languish? The action switches between the offstage drama, punctuated by contributions from the multi-talented Musician (Laurence Kaye on keyboards, squeezebox, flute and trumpet), and the occasional snippet of Sheridan. Jane Revitt's simple but ingenious set - a toy-like miniature theatre, a box of props and a row of footlights - suits the play perfectly. Yet despite all the hard work that must have gone into the production it rarely succeeds in touching the heart.
The cast acquit themselves well, and the scene in which Sarah Morris describes how the Girl was abandoned by her father is quite astonishing. But on the whole the play comes across as a string of barely connected scenes; there's simply too much plot and not enough structure. It also has to be said that author and co-star Ian McMillan, a well-known Yorkshire poet and broadcaster, is not a born actor. He's certainly an engaging personality, chatting to the audience as they take their seats and looking for all the world like Mr Fezziwig in A Christmas Carol (a resemblance strengthened by his vigorous dancing), but in the excerpts from The Rivals - particularly his scenes with Judy Emmett as Mrs Malaprop - his shortcomings are all too obvious.
In the Footsteps of Mr Butler is a laudable undertaking, and well worth seeing for the ease and self-confidence displayed by Morris and Dyson. But the play itself would have benefited from considerable re-writing before it went on tour.
Touring to Sheffield, Lancaster, Terrington, Scarborough, Huddersfield, Northallerton, Halifax, Settle, Ulverston and Richmond. Tour ends 16th June
Reviewer: J. D. Atkinson