Mr Happiness & The Water Engine
David Mamet
Theatre6
Old Vic Tunnels
(2011)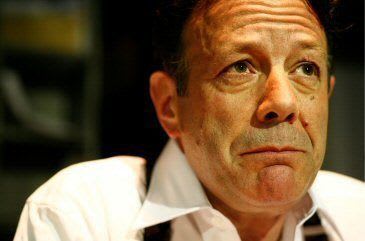 In the Old Vic Tunnels (run entirely by volunteers), Theatre6 is staging two classic David Mamet plays. Mamet is a Pulitzer prize winning playwright, but sometimes you need more than a good script to put on a good production.
The first play has a simple premise: Mr Happiness is about a 1930s radio agony aunt, helping his audience to make seemingly difficult decisions. "It's common sense," he says; he's not a genius, he just sees the problems from a distance. David Burt is charming and engaging as Mr Happiness with his smooth, low voice and his knowing smile, negating the need for the silhouetted figures behind him that make vague attempts of acting out his words. It's like director Kate McGregor has panicked at the thought of having just a stationary man onstage for twenty-five minutes - she should have trusted Mamet's script and Burt's acting.
A wall of shelves has wisely been put behind the actor; Carla Goodman's set design blocks off a vast portion of the deep stage, making the short play more intimate.
The second play, The Water Engine, is based around Charles Lang, a young inventor who's created an engine that uses water as fuel. Dreaming of a better life for himself and sister Rita, he tries to patent his machine. Although he knows he needs to be careful in patenting his idea, he doesn't see how far people will go to steal his idea.
Once again, David Burt is brilliant as the imposing Oberman, the smiling nemesis whose double talk lets you know just how dangerous he is. Jamie Teacher gives a convincing performance as the naive Lang. The ensemble gamely backs them up, providing some fun cameos and also the sound effects from their office desks at the side of the stage.
Originally, both of Mamet's plays were set in a 1930s radio studio, with The Water Engine being performed as a radio play within a play. McGregor has all but taken away this extra level and presented it as a straight play; only a few lines at the beginning of each act refer to Mamet's original intention, and if the programme hadn't told us of this than it would have been lost altogether. Although Mamet challenges directors to use the play within a play device as much or as little as they wish, one can't help feeling that McGregor has taken this advice too much to heart. As a result, an extra layer that could have been interesting is lost to us.
Whilst both these shows are interesting, there is something lacking in The Water Engine. Maybe it is the loss of its extra layer, but there is something about it that fails to hold our attention. The acting is good, the set is good, the script is good yet it is swallowed up in the depths of the stage. Hustle and bustle comes across as chaotic and confusing instead of buzzing. The dripping and atmospheric tunnels under Waterloo don't mesh with the brisk 1930s play.
Reviewer: Emma Berge