Call Mr Robeson: a Life with Songs
Written and performed by Tayo Aluko
Tayo Aluko and Friends
Unicorn Theatre and touring
(2011)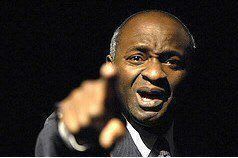 No one who has ever heard it, live or on disk, could ever forget the rich sound of Paul Robeson's voice. That is something of which Tayo Aluko can only give us a suggestion in his solo show for his is of a higher range, but this is an inspiring first person presentation of the life of a great performer and a passionate advocate of the rights not just of blacks but of all people.
The title Call Mr Robeson does not refer to a theatre call to come to the stage but that to appear before the House Committee on Un-American Activities of the McCarthy era and the performance follows his political and humanitarian career alongside that as singer and actor.
Director Olusola Oyeleye and designer Phil Newman have set the play upon a shattered gramophone record around which are placed the flags of the USA, the UK, Wales, the USSR and the International Brigade who fought to save the Spanish Republic. They are reminders of the countries which play an important part in the story, and with them is piled the evidence of his life, the photographs, books and documents that record his story.
It begins with a strong image: Robeson's entry bowed down under the weight of - well, it is actually a chair, but it could be those bales he loads as he sings "Ol' Man River" or the metaphorical weight of the oppression of slavery and discrimination.
This is not a production using big dramatic effects. Its scale is intimate, its style simple but, like that effective entrance, a change of level by standing on a document box, the slumping down in a chair, an expansive gesture or a change of lighting state can have a powerful effect and pianist Michael Conliffe's musical contribution adds greatly to the emotional atmosphere as well as accompanying the songs that mark particular points in Robeson's career and remind us of his enormous appeal as a performer..
Though emphasising his courage and leadership it avoids hagiography; we see some of the flaws, even if only hinted at by the ladies who crop up as 'close friends'. It is open about the strains of his marriage, about his suicide attempt and neurosis which at one time rose to the paranoid, though probably with justification given the close surveillance he knew he was under.
Aluko cannot match the physical stature of Robeson but alone on stage he can suggest it. He plays the man without trying to imitate him and develops an open and direct rapport with his audience. The drama comes from the facts themselves and the sincerity of the telling and he has captured something of the quality of Robeson's presence,
Few today will have had firsthand experience of Robeson as singer, actor or orator and, although his contribution to the civil rights movement and his ideals are now acknowledged, the years of denigration by the authorities took their toll on his reputation, even in Britain where he was widely loved, especially by the working class movement that he so firmly supported. It was particularly heartening to see the response of the young people in this audience at the Unicorn.
You cannot squeeze a whole life into a ninety-minute performance but those minutes are packed with revealing information which goes from Robeson's family background, through success as footballer, student lawyer, singer, actor and eventually political activist, to his persecution and its effect. I think even those who already know most of the story will find details new to them and those to whom Robeson is a vaguely heard name from the past will discover a new hero.
There is little discussion of his career as an actor though we are told of his dissatisfaction at the way some of his film performances were distorted in the final cut and there is reference to his playing of Othello: in London with Peggy Ashcroft as Desdemona, an actress with whom he had a long liaison, on Broadway with Uta Hagen, directed by Margaret Webster, and at Stratford with Mary Ure, directed by Sam Wanamaker. Othello's final speech "I have done the state some service " is used here to be Robeson's own farewell; Aluko makes it a dignified end to a fine performance.
"Call Mr Robeson" runs at the Unicorn Theatre until 23rd October then Hull Truck Theatre 218th-29th October, Norwich Puppet Theatre 30th October, Stephen Joseph Theatre, Scarborough 10th November, Royal Spa Centre, Royal Leamington Spa 12th November, Rose Theatre, Edge Hill University, Ormskirk 17th November, Yvonne Arnaud Theatre, Guildford 24th-26th November. Bridport Arts Centre 1st December, Dorchester Arts Centre 2nd December, Bridgwater Arts Centre 3rd December 2011; Ustinov Studio, Bath Theatre Royal 12th-13th January, Hopkins Center, Dartmouth College, New Hampshire, USA 17th - 18th January, Neuadd Dwyfor, Pwllheli 27th January, Ucheldre Centre, Holyhead 28th January, Carnegie Hall, New York 12th February, Waterside Arts Centre, Sale 8th March, Hertford Theatre, Hertford 9th March, Hawth Theatre, Crawley 24th March, Dundee Rep Theatre 29th March, Cumbernauld Theatre 30th March 2012.
Reviewed on the Edinburgh Fringe in 2010 by Graeme Strachan
Reviewer: Howard Loxton