Mrs Lowry & Son
Martyn Hesford
Moya Productions Ltd
Trafalgar Studios, Studio 2
–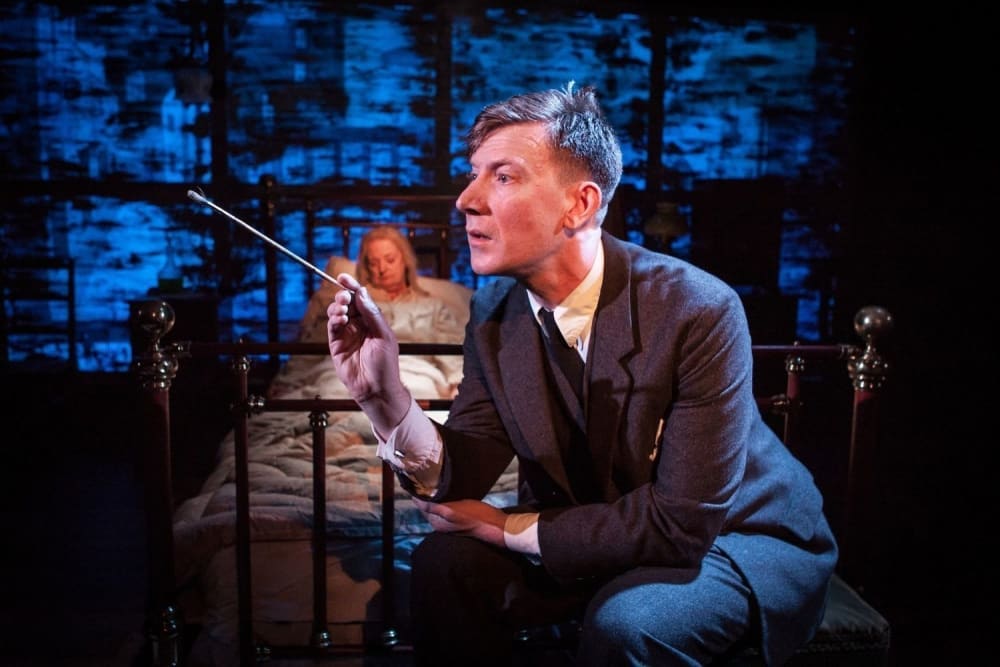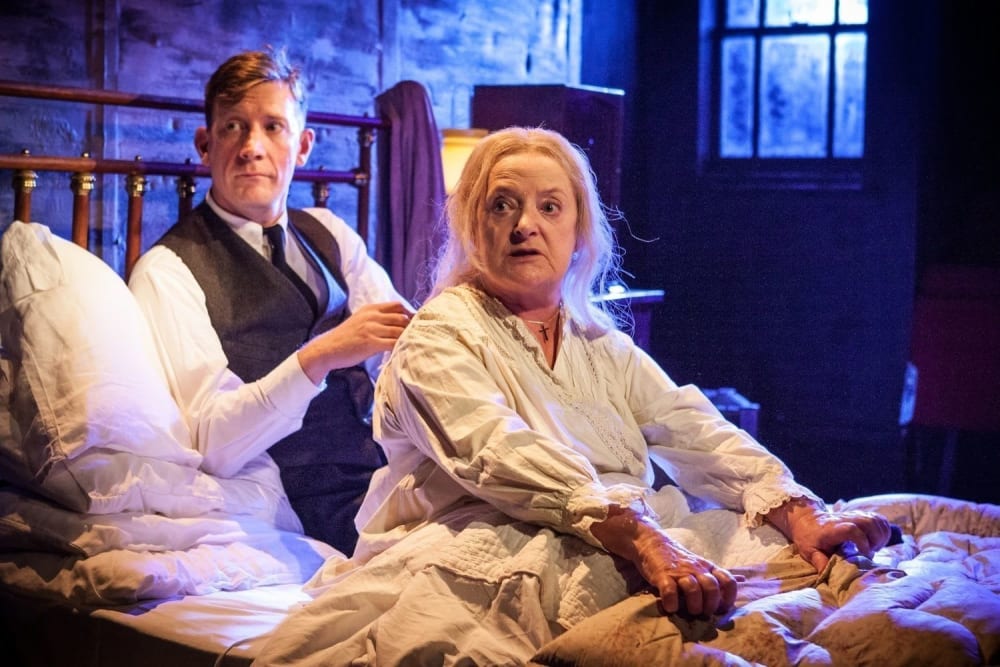 "My paintings are not just pictures of streets, mills and factories. Every stroke of colour is made up of me."
"How self-indulgent, get yourself to a doctor."
So says Mrs Lowry in Martyn Hesford's delightfully funny and thought-provoking new play about the working-class painter L S Lowry and the demanding matriarch he aspires to please.
Developed from a radio drama, Mrs Lowry & Son imagines the seven years Lowry spent tending to his bed-ridden but unfailingly prickly mother. A willing slave to social hierarchies, Mrs Lowry is quick to melodramatically frame herself as a thwarted member of the middle class, forced to live in the 'vexation' that is Pendlebury with her rent-collector son.
Hesford smartly juxtaposes Mrs Lowry's world of keeping up with the Joneses and ostentatious tastes (including her prized taffeta pouf) with her son's ability to mine the essence of everyday, working-class life in his paintings. This talent would see his work undermined by those who bristled at the suggestion of any beauty inherent in landscapes featuring factories, mills and Lowry's signature 'matchstick men'.
Of late, however, the tides are turning and an understanding of the genius driving Lowry's paintings, once relegated to the category of pop art, is emerging. Though a fictional rendering of life with the Lowrys, Martyn Hesford's play goes a long way towards filling in the gaps of the complicated and comic relationship contributing to Lowry's unparalleled world view.
At a tight ninety minutes, Mrs. Lowry & Son gives us a portal into the highs and lows characterizing Lowry's life with his mother. The banter is witty, eliciting big laughs. When tension reaches a breaking point, however, we're given a glimpse at the fundamental struggle between Mrs Lowry's impossible ideals and her son's inevitable failure to measure up.
Director Abbey Wright seems conscious of this, keeping the pace moving for the play's many funny exchanges while also creating the space necessary for Lowry's frustration and sadness to unfold. On the whole, Wright handles Studio 2's tiny playing area adeptly, making room for mother and son to have telling private moments outside their loaded interchanges.
As Mrs Lowry, June Watson is outstanding. She flips seamlessly between comic tirades and demonstrations of the fierce protectiveness surrounding Mrs Lowry's connection to her beloved 'Laurie'. Watson also gives us a glimpse at the character's vulnerability—when a London gallery comes calling, Mrs Lowry is loathe to lose her son.
For his part, Michael Begley breathes life into Lowry by melding a quirky and mischievous disposition, always apparent in amusing exchanges with mum, with an undercurrent of the artist's enduring unhappiness. Though Begley's Lowry feels a bit jarring at first due to his straight-ahead, 'Rain Man'-style delivery of the text, many have theorized that the artist was autistic, which brings this interpretation and its nuanced complexities into focus.
Thanks to Wright's direction, the rich, comedic portrayals by Begley and Watson and evocative scenography by Richard Kent and David Plater that overlays life in Pendlebury with Lowry's artistic view, Mrs Lowry & Son poignantly captures the vision of a painter who remained deeply amused and saddened by a life in which nobody, including the artist and his class-bound mother, 'is free'.
Reviewer: Melissa Poll