Mrs Brown Rides Again
Brendan O'Carroll
Tyne Theatre, Newcastle, and touring
(2005)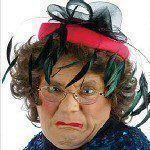 Take a popular comedy character who has featured in 366 radio episodes, four books and a Hollywood film featuring Angelica Houston, place her in a comedy and you're bound to have a hit. Certainly comedian/actor/writer Brendan O'Carroll has with his creation, Agnes Brown. Agnes is back in another slice of her comedy trilogy. The first two parts in this comedy trilogy has played to over a million people. So what does Mrs Brown have to offer?
Set in Ireland, Mrs Brown Rides Again tells the story of well not a lot really! Agnes has a friend whose husband has fallen ill and is need of an operation and hopes to make a bingo or lottery win to help her pay for it. All while Agnes fears she may take that trip to the retirement home.
Mrs Brown Rides Again is a show that seems to be part of a popular trend that has hit theatre at the moment. That is for writers to collect together a bunch of jokes and visual gags, then slot in a plot around them, no matter how weak. Gone is the art of creating a strong and original story and plot, then working in jokes that fit - the art of real comedy writing.
As well as writing the show, Brendan O` Carroll brings to life his creation of Agnes Brown. Brendan is a strong comic with great presence and comedy timing. Sadly his fellow cast members struggle to bring to life the number of unnecessary and weak supporting characters. When Brendan leaves the stage the energy and comedy stops, leaving the audience lost.
The show's direction feels like it has been left up to the cast to find a space and if there is a spare seat then take it. At times they look huddled together like cattle, masking some of the action and often shifting focus.
Mrs Brown Rides Again did provide some nice physical comedy and great one liners that had the audience rolling in fits of laughter. If you like stand up comedy and a lot of blue humour then this if for you: if you expect a well crafted comedy with lovable and interesting characters then look elsewhere.
Reviewer: Wayne Miller