Much Ado About Nothing
William Shakespeare translated into modern verse by Ranjit Bolt
1623 theatre company and Purple Theatre
Century Theatre, Coalville
–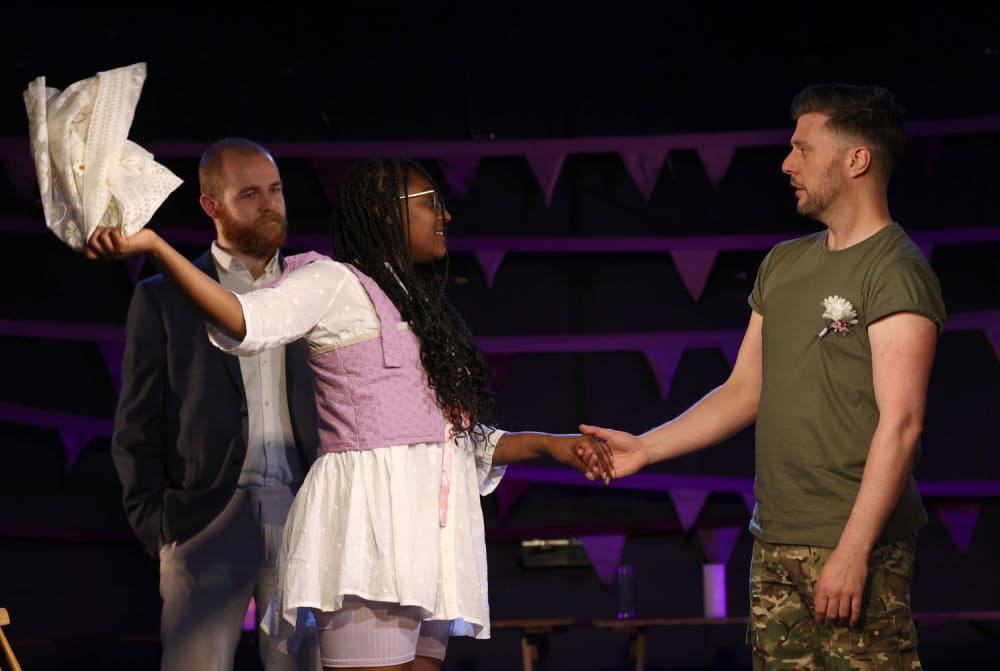 Play On Shakespeare is a not-for-profit company dedicated to enhancing the understanding of Shakespeare's plays through performance. So it is laudable that the organisation and the Arts Council have commissioned Purple Theatre and 1623 theatre company to come up with a new version of one of Shakespeare's more popular comedies, Much Ado About Nothing.
The task of transforming the script into modern verse was handed to Ranjit Bolt—no stranger to translating classic scripts after updating Chekhov's Three Sisters and Tartuffe by Molière. He was also responsible for a 2006 adaptation, Merry Wives the Musical, which the Royal Shakespeare Company produced in Stratford.
He believes a translator should make a version as entertaining as possible while at the same time remaining faithful to the original.
But the script for Much Ado About Nothing seems a mishmash of ideas which do not blend together. Some of the time, the text seems to mirror Shakespeare's rich language without bettering it; at other times, words like "woo", "braggart" and "villain" do not seem appropriate for a modern audience. This is in total contrast to some of the modern language which brands Hero a "filthy slut" and has Claudio described as a "two-faced" and "jumped-up".
Much of the comedy in this adaptation of Much Ado About Nothing has disappeared. The script renders the pomposity of the constable Dogberry businesslike rather than comical while the sparring between Beatrice and Benedick in the early scenes is comfortable rather than caustic.
Purple Theatre celebrates non-binary values in race and gender while 1623 champions diversity. So more than half the cast of 11 in Much Ado About Nothing, according to the press release for the show, are people of colour, female and non-binary performers.
Derbyshire actress Emily Howlett, who is deaf, is endearing and captivating as Beatrice. But she does not come over as a woman with a sharp tongue which has put men off marrying her. Sometimes she signs during the performance, although as a non-signer I found it difficult to understand.
Lewis Brown gives the play's most impressive performance. He presents Benedick first as an arrogant charmer whom all women love, then becomes mawkish when he learns that Beatrice is supposed to be in love with him before adopting a stoical, shrewd stance when he has to confront Claudio over his refusal to marry Hero.
Jamie Brown gives a confident, assured display as Claudio and Tamika Steadman is sparky as Hero, particularly when she defends herself against allegations that she has been unfaithful on the eve of her wedding.
Much Ado About Nothing is performed on a basic set with a few tables and chairs, graffiti on brick walls and bunting to conjure up a party atmosphere as a community comes together after war. Director Ben Spiller gets the most out of the cast.
On the morning that I saw Much Ado About Nothing, the audience was made up mostly of schoolchildren. They were engrossed in the early stages but appeared to lose their concentration before the end.
Updating Much Ado About Nothing must have been a good idea, but Bolt's script is patchy and seems too long. Although it will help some people to have a better understanding of Shakespeare's play, many will prefer the original.
Reviewer: Steve Orme