Much Ado About Nothing
William Shakespeare
Clwyd Theatr Cymru
Clwyd Theatr Cymru
–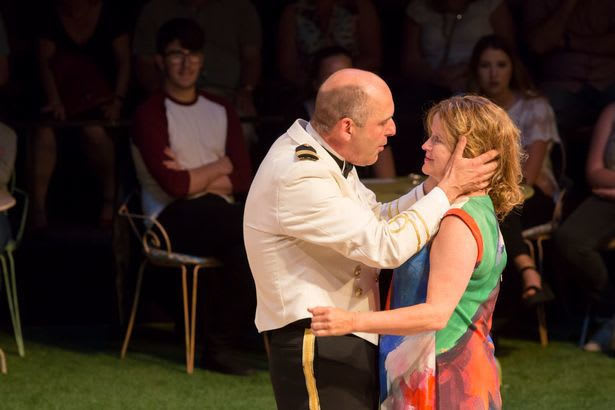 Theatre Clwyd Artistic Director Tamara Harvey has chosen this Shakespearean tale of love and deceit for her first production as director here and if this is a foretaste of what is to come we are in for a treat.
She has set this irresistible production in the dreamy North Wales location of Portmeirion on a stage adorned by lavish topiary. There is also a feel of the Swinging Sixties with costume and hairstyles and you are left with the relaxing feel of a fine summer's day at this incongruous Italian-style location on the North Wales coast.
The taste of a sixties-type farce becomes ever more appropriate as the twists and turns of the plot unfold on Janet Bird's eye-catching and spacious stage. Drinks parties, young love, some splendid misconceptions and a classic villain in Steven Meo's sinister Don John are all present in this outstanding comedy.
This is also the first production to be performed in-the-round in the theatre's forty-year history, a brave step but one that works perfectly as the cast are able to ad-lib and interact with audience members seated at tables around the stage.
The plot, with its theme of love, envy and deceit, also demonstrates the potential for events to be shaped by the interference of third parties and the action unfolds with pace and some moments of pure comedy.
The seemingly straightforward love affair that develops between Claudio and Hero becomes a convoluted tale of spite and deceit whilst, along the way, incorporating the amorous antics of Beatrice and Benedick. Nakay Kpaka and Louri Palfrey both make impressive Theatre Clwyd debuts in the roles of Claudio and Hero while John Ramm as Benedick and Lisa Palfrey as Beatrice are pure comedy gold.
Benedick is the confirmed bachelor who has a particular distaste for Beatrice who speaks and "every word stabs". Ramm simply revels in the role and despairs that he may never see a "bachelor of three score again".
Beatrice is equally as dismissive of him until both she and Benedick are duped by a plan devised by David Bark-Jones's excellent Don Pedro. The scenes where both Benedick and Beatrice "accidentally" overhear conversations about how much the other one loves them are a joy, as Ramm and Palfrey react with increasing wonderment at each new revelation.
These scenes contrast very well with the tension-filled moments of the wedding of Claudio and Hero which painfully demonstrates the importance of shame and honour at the time the play was written. Reassuringly, these factors lose nothing by being transported to North Wales in the sixties.
Sian Howard excels as Leonata, both as a doting mother and a steely-eyed matriarch intent on justice, and Catherine Morris has the audience in stitches at times as a motor-mouthed Margaret. Sion Pritchard's Dogberry, presented here as a bumbling Welsh policeman, is so good you almost wish we could see a spin-off production.
If Tamara Harvey continues to offer such entertaining and accessible theatre as this Much Ado About Nothing, then the future of Theatre Clwyd looks bright indeed.
Reviewer: Dave Jennings