Much Ado About Nothing
William Shakespeare
Globe Touring
Georgian Theatre Royal, Richmond
–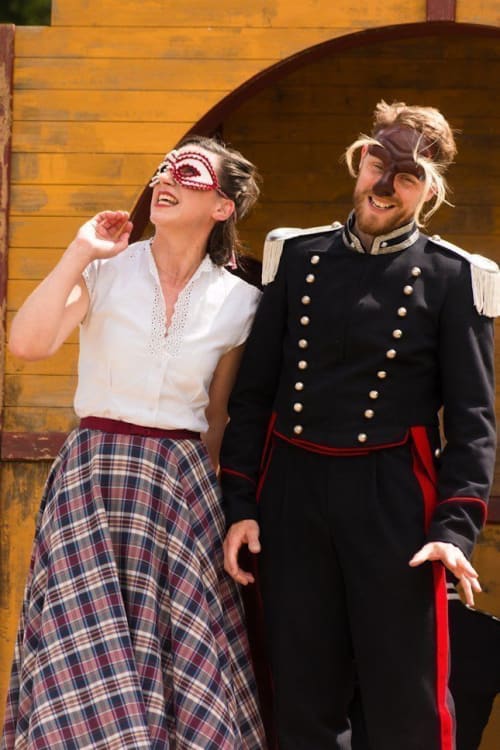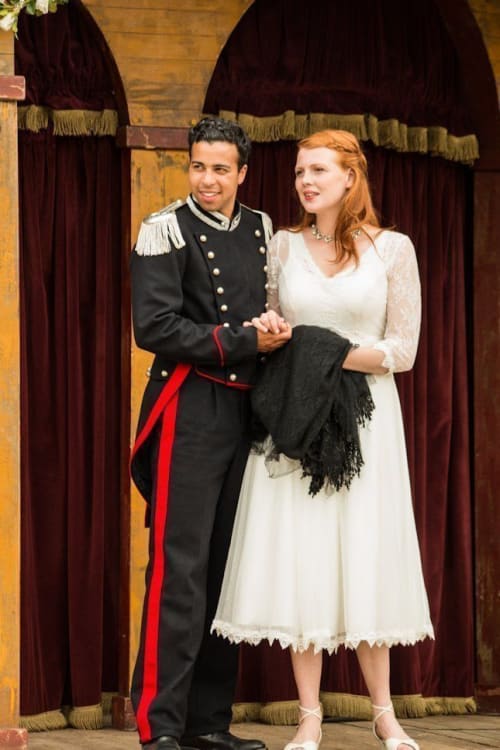 Much Ado About Nothing sounds like it might have a pretty insignificant plot-line—until you realise that in the slang of the day 'nothing' was the street name for a vagina. Oh, how Shakespeare doth deceive us, easily turning the phrase into a saucy double entendre where chastity and fidelity do a merry dance!
And how merrily these actors do dance, each with an instrument, some great music and a little clever choreography. Seven people and a table on the Georgian Theatre's tiny stage unintentionally make the swinging neck of a guitar into a dangerous weapon. Thankfully, however, there are no cats in this production!
Having said that, there's the roar of a Lion and a Lioness in Beatrice and Benedick, and maybe even a meowing kitten in Hero, and... sorry, I digress...
The Nothing in the title belongs to Hero (a gorgeous Jessica Warbeck), the chaste, pretty, young daughter of Leonato (Robert Pickavance), whose marriage to returning soldier Claudio (an excellent Aaron Anthony) is on the cards. But of course, this is Shakespeare, so it's not so simple. Don John (Alex Mugnaioni) is keen to have Hero to himself and so the maze of mischief and misperception begins.
As if to show us a different sort of love, Shakespeare introduces Beatrice and Benedick, whose animosity serves to enhance their differences and insults fly like poison arrows. The tension between the couple is tighter than an E string on a guitar, exposing the complexity of love itself and how easy it is to be deceived by gossip and social interaction.
Christopher Harper's most excellent Benedick is cocky, flippant and unnervingly comic, especially when he's waxed his moustache into little horns.
Beatrice (Hero's cousin) is the amazing Emma Pallant and a whole dictionary of superlatives just won't do to tell you how good this young lady is, with her real tears, her perfect expressions and the most wonderful expressive acting. She's darn good too when she doubles up as the old man Verges, sidekick to Dogberry who is expertly given the comedian treatment by Alex Mugnaioni.
Robert Pickavance has two well-formed characters with some great comedy timing: Hero's emotional father Leonato and the loveable almost pantomime dame creature, Ursula.
Joanne Howarth comes up trumps with the un-maiden like Margaret—a quick-witted, brilliantly animated performance with a convincing northern accent. Howarth also doubles up as Borachio and Friar Frances, expertly changing her character with each rapid costume change; not an easy accomplishment when you know just how cramped the conditions are backstage.
I love this company and look forward to their annual visit to The Georgian. I wonder every year how they can top their last performance. Last year it was King Lear—how could they better that? This year, with the aid of director Max Webster, designer James Cotterill and composer John Barber who have seamlessly combined to make a most delicate, charming comedy with tragic overtones, they have surpassed themselves and done better, with bells on.
I love their simplicity and clarity of voice, the casting, direction, acting skills and the fact that props are not added for looks, rather for their usefulness. Benedick's hilarious use of a simple folding chair to hide behind makes fun of the fact he's trying to secretly listen in to a conversation. A game of dominoes is served up as the plot begins to collapse and how imaginative to bring the two accused prisoners tied to old wooden railway baggage trollies?
And, as if to make this event even more special, the opening night of Globe Touring's performance at The Georgian Theatre Royal coincides with the 227th anniversary of the grand opening of the theatre in Richmond on 2 September 1788. How neat is that?
Reviewer: Helen Brown