Much Ado About Nothing
William Shakespeare
Royal Exchange Theatre
Royal Exchange Theatre, Manchester
–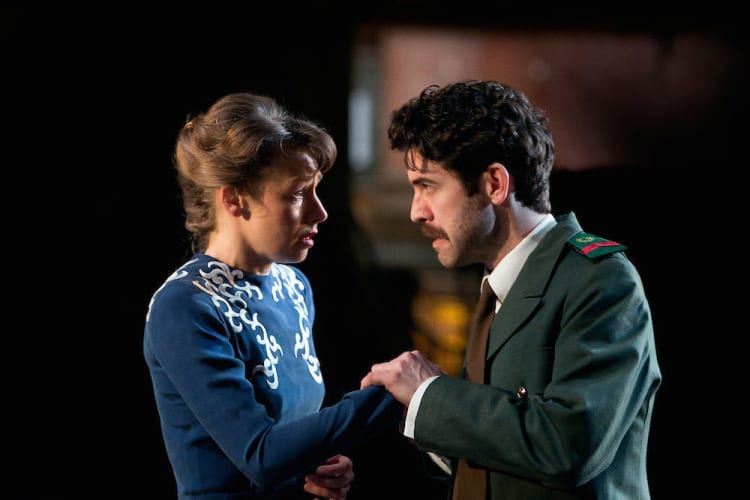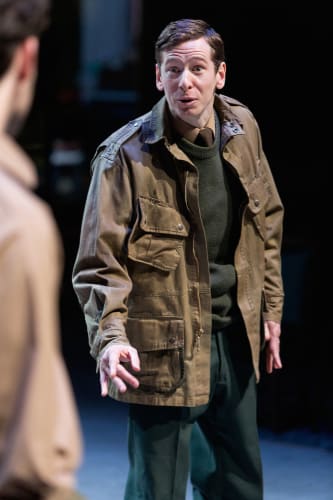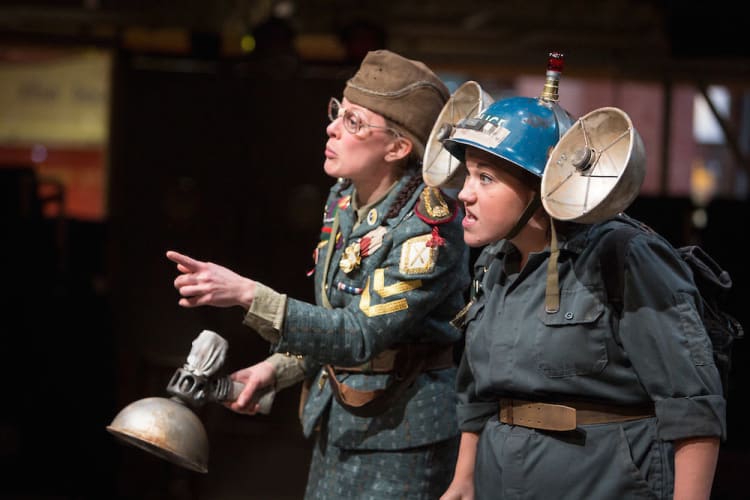 Maria Aberg's Much Ado for the Royal Exchange is set under the elaborate chandelier and streamers of a 1940s dance hall with fashions to match, courtesy of designer Merle Hensel.
Some of the characters have changed sex to give more of a balance to the parts, and so Leonato, the governor of Messina, has become Leonata and incompetent constables Dogberry and Verges are also both female. This largely works, giving a nice impression of an all-female house to which the men return from war.
This play usually focusses on reluctant lovers Beatrice and Benedick, often using star casting in these roles—such as Josie Rourke's 2011 production with David Tennant and Catherine Tate—but Aberg shifts them from the centre of the action, treating them as just one of the many strands of this play.
Beatrice and Benedick's constant squabbling that eventually results in them falling in love—no spoiler here; it has become the basic premise of many romantic comedies ever since—is mixed with the tale of Claudio returning home from a victorious battle to take Leonata's daughter Hero as his bride, but Don John, bitter brother to Don Pedro, plots to poison Claudio's mind against Hero on the eve of their wedding.
The production certainly isn't subtle. The comedy is broadcast clearly with a lot of face-pulling from the comic characters and forced jollity from the ensemble, whereas emotion is signposted with a lot of arm-waving and shouting. It's also rather under-rehearsed, with some bland speaking of lines that obscures the meaning, half-hearted comic business and rather more fluffing of lines than we're used to on a Royal Exchange press night.
There are some interesting directorial touches: the masque ball in the huge plastic heads had an interesting look to it, and the Baz Luhrmann touch of live singing Beyoncé's "Crazy For Love" may have added to its quirkiness if the singers could have kept up with the music. At some moments the actors can hold the audience with words delivered as though they have meaning, but at others it is too easy for the attention to wander as it's difficult to follow what is being said.
As the feuding princes, Jason Baughan and the ever-reliable Milo Twomey give very strong performances as Don Pedro and Don John, with excellent support from Danny Dalton as evil Don's sidekick Boracchio. Gerard Kearns gives a heartfelt portrayal of Claudio, although he is more like a younger character from Coronation Street than a Florentine count, with a good performance from Becci Gemmell as Hero.
Marty Cruickshank's Leonata is as strong and proud as the male character Shakespeare wrote. Sandy Foster and Beverly Rudd as Dogberry and Verges create a double act that could be straight out of children's television, with lots of comic business that is only mildly amusing and rather obscures their role in the plot as a whole.
Both Paul Ready as Benedick and Ellie Piercy as Beatrice are still finding their feet in their roles. Ready does really shine at certain moments—his soliloquy pondering on whether Beatrice really loves him contains some great comic delivery—and so I'm sure this will become a very good portrayal later in the run.
Perhaps given the rehearsal periods Aberg had at the RSC this production could have come together as a coherent concept, but at the moment it looks like jumble of ideas that are imposed on the play and that obcure rather than illuminate the original material.
Reviewer: David Chadderton