Much Ado About Nothing
William Shakespeare
Shakespeare's Globe
–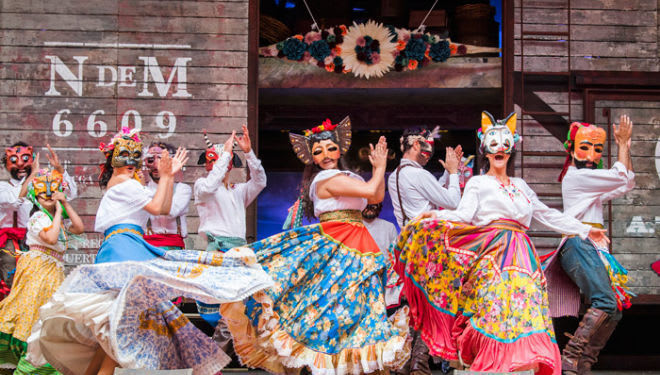 Matthew Dunster's production moves Much Ado from a warring Spanish Sicily to the New World and a different era: Mexico in the early twentieth century when Pancho Villa and Zapata were leading revolution.
Exchanging one exotic location for another has produced some not strictly necessary renaming but offers a similar macho Hispanic world, though one where women are among the rebel sharp-shooters, allowing some character gender changes to create more women's roles and opportunities for colourful lively action, with a mariachi band atop the railroad wagons that are the rebels' travelling quarters currently halted at Monterrey.
Another production with scenery that hides some of the Globe's architectural setting and uses full stage lighting and some more modern wordage and even new jokes may also upset Elizabethan purists but it is a very effective staging of the conflict between anti-marriage Beatrice and Benedick as they are tricked into admitting their attraction to each other.
In a well-matched pairing, Beatriz Romilly's Beatrice and Matthew Needham's Benedick are young but they clearly have a back-story to fuel their sparring. It's a world of hombres and conventional honour, not romantic indulgence.
Benedick's young comrade Claudio (Marcello Cruz) feels an instant attraction to Beatrice's cousin Hero (Anya Chalotra) that seems to go against that. Perhaps there is also a decent dowry and he's soon drawn back into that macho mindset when honour is questioned by the scheming of his leader's sibling, Donna Juana (one of several gender switches that increase the roles for women). Jo Dockery's trousered, pistol-wielding villainess is a strong performance but in this setting what is her motivation?
This Benedick turns out to be a bit of a softy beneath his bandolier while his Beatrice increases the firepower as the plot develops. When asked how he should prove his love, her "Kill Claudio!" comes pat and calmly, not a challenge. It is a measure of this production and the Globe audience that instead of a shocked intake of breath it gets a laugh.
Though the play opens with a wounded soldier on a stretcher being brought through the audience, little is made of the political situation in which Dunster has set it. (The US was selling Villa and Zapata faulty weapons and supporting their opponent.) There are some more current-sounding trumped-up (sorry!) references to Americans and with women involved in the revolutionary forces Beatriz could be seen as part of a change in the way women think of themselves, but this is a fantasy Mexico of fiestas rather than revolution.
It is an imaginary world where soldiers enter on stilts to make them rider, with horse heads borrowed from Equus (and very effective), where stagecraft can make every actor a hot shot and hit a tin can.
Beatrice and Benedick don't hide behind bushes in a garden to overhear how much the other loves them but can roll beneath the railway wagons and find apertures within them to poke a head through in a kind of clowning. Dogberry and Verges are no longer in charge of a nightwatch when they catch Donna Juana's accomplice but are turned into an American film director and his script girl recruiting assistants.
These comic scenes for Shakespeare's clowns aren't easy to make genuinely funny but, though it is a nice touch to catch Borachio boasting of his guilt on film, is this really better?
The cuts are many, without much thought about how verse is affected (though it gets some excellent delivery from Charlie de Melo's Friar Francis). Rewrites are bold and not always effective: though Beatrice's jibe "you always end too soon" is clearly more obviously sexual to a modern audience than reference to "the jade's trick." It strongly implies a previous intimacy between them that rather undermines the honour principles that drive the parallel story. Are they now being offered as rebels against society's official sexual mores?
There's no time to think about that deeply for it is probably time for another song (including some of Shakespeare's), more colourful skirt waving and foot stamping. This is a production that exploits the freedom that Emma Rice has given her directors. It delivers a clear story in a way that provides great audience satisfaction for it gets an enthusiastic reception.
A Much Ado that follows the spirit, if not the letter of Shakespeare, this is certainly tremendous fun.
Reviewer: Howard Loxton