Much Ado About Nothing
William Shakespeare
Reading Between the Lines Theatre
St James Catholic Church, Reading
–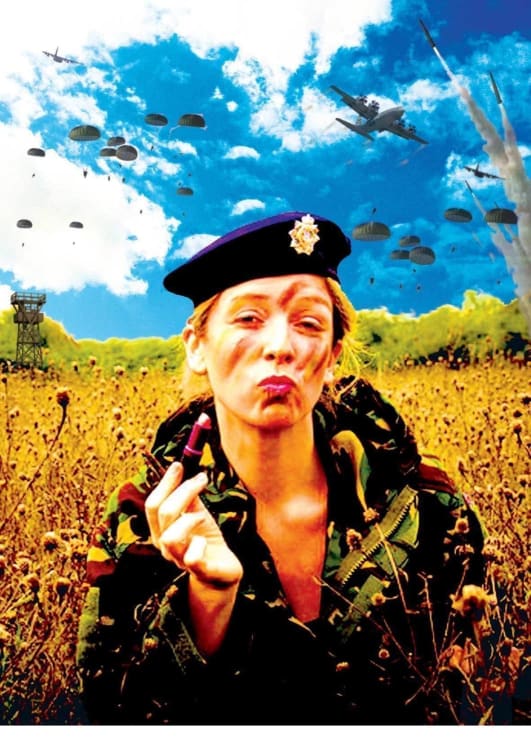 Set in a church that is pretending to be an army barracks, director Hal Chambers has attempted to give a British military twist to this play of humour, charm, misplaced loyalty and love.
We are told by the director that the play raises contemporary issues of women in the military, that he sees a connection with the current debate about whether or not women should be allowed to fight in close combat, and the male dominated world in which women in the military have to survive.
This perceived connection shapes the delivery and direction of the piece, but does not change the text or original intention of the play. It is a straightforward portrayal of this much loved, witty text, performed well by a large cast, in a small venue, with minimal set and multiple costume changes.
The piece uses sparse lighting—the church is not equipped with the standard theatre set up—to great effect. Sound effects are used to imitate marching soldiers in the background and music imposes a more contemporary setting on to the traditional text and intention.
The famous song "Sigh No More" is turned into a grimey R&B track, that throws the performance into a representational state, that seems quite out of place with the fourth-wall naturalism of the rest of the piece. It is entertaining nonetheless, and continues to be used as a filler for scene changes. The humour and witty repartee of the text has been drawn upon at every possible opportunity and underlined in bold, leaving the audience chuckling at innuendo and army barracks banter.
The problem with this unrelenting focus is that the softer, gentler moments are sometimes lost. Beatrice's charm and soft-heartedness is less clear and we struggle to fall in love with her as much as we should.
Beatrice has many gentle and poignant comments, belying her loneliness and once broken heart. Her beautiful, almost sorrowful line in response to Don Pedro's comment that she was born in a merry hour, "No, sure, my lord, my mother cried; but then there was a star danced, and under that was I born" is unfortunately lost, portrayed as laddish banter, rather than the warm and delicate reflection that it could be.
This is not a criticism of the performance by Dani McCallum, which is strong and characterful throughout, but rather of the choice to portray Beatrice as military personnel, placing her in an army setting that washes away some of the softness and charm of her and other female characters.
Other humour drawn out through the piece is well portrayed, particularly from Mark Middleton, whose community support officer interpretation of Dogberry is particularly entertaining.
Staging a play in-the-round, especially if it is reasonably static, is always very difficult, and requires careful choreography to prevent performers spending too long with their backs to the audience. Unfortunately, this is what happens, with performers standing at the four corners, on a raised platform, blocking the view for audience members at least a quarter of the time.
This is the nature of staging work in an unusual setting. Choosing a church as a venue left me expecting some connection between the church and the staging of the piece, it is such a powerful space to be in, surrounded with history and meaning and patriarchy. It would add a powerful layer to the performance to use this unavoidable setting rather than pretending to be elsewhere.
Overall, this is a solid production with some innovative intentions and a committed performance from a young cast, full of energy and dedication.
Reviewer: Liz Allum