Much Ado About Nothing
William Shakespeare
Iris Theatre
St Paul's Covent Garden
–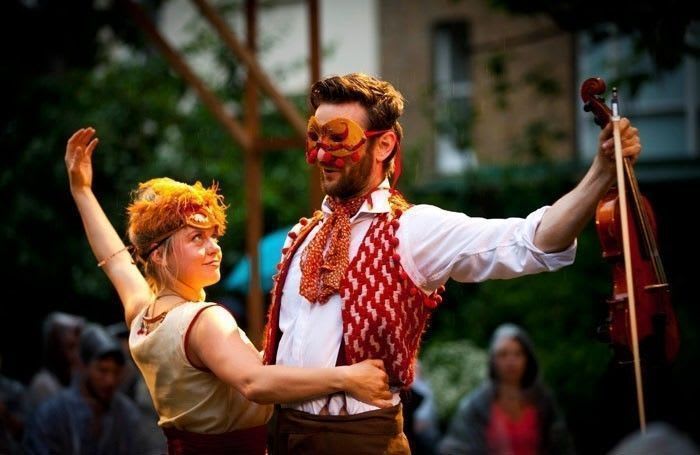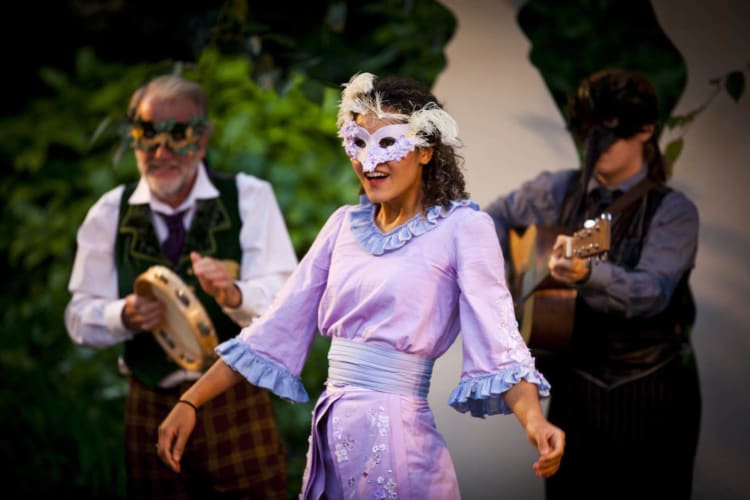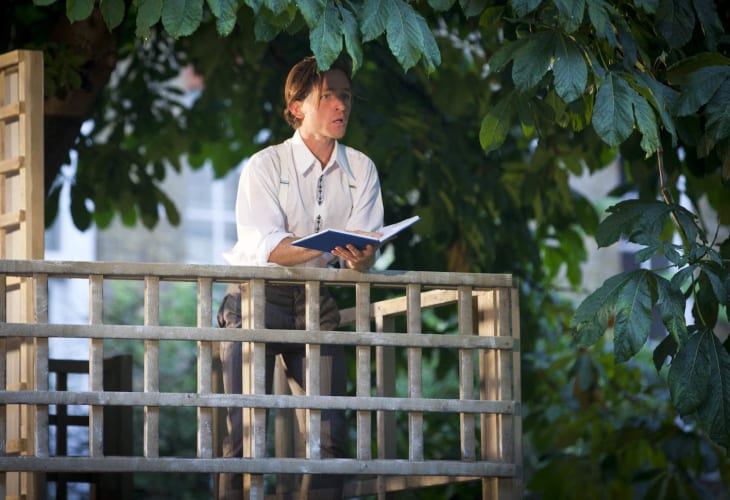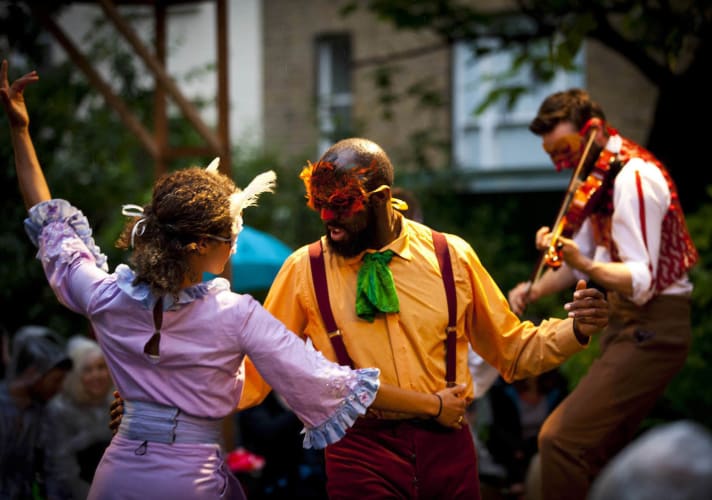 Rain didn't stop play at St Paul's Covent Garden where the audience were provided with plastic ponchos in case they were needed. The downpour had stopped and things started to dry out before "curtain-up" time (though, of course, for this promenade show in the church and its garden there isn't a curtain).
True, it stayed very grey and in one scene we did get a slight sprinkling but this tough, hard-working team still delivered lively comedy. Laughter flows more freely with the lights up. This would have been even more of a romp with summer evening sunshine.
From the moment that Anne-Marie Piazza rides her bike through the audience as Beatrice dressed in bright red and yellow, decorated with bobbles, you know you are in for some fun. Beatrice has an old sparring partner, Benedick (Nick Howard-Brown), who is one of a group of soldiers returning from the wars. Led by Don Pedro (Darrel Bailey), they come to stay at the house of her father.
Benedick has declared he will never marry so his friends hatch a plot to bring him and Beatrice together by convincing each that the other one loves them. Meanwhile, a young officer, Claudio (Graeme Dalling), has fallen for Beatrice's pretty young sister Hero (Emma McDonald). But Don Pedro's black-hearted brother Don John (Jennifer Clement) has a score to settle and casts a dark shadow over their happiness.
Amy Draper's production is fast-paced without directorial gimmicks. It soon re-establishes audience contact after the brief hiatus each time it moves to a new location. It is clearly spoken but sometimes with individual words over-emphasised, though that, noticeable close up, may perhaps aid clarity at a distance at the cost of naturalness. Indeed, the overall style is one of performing, acting that is a little exaggerated, and it is fine for a play that involves a lot of pretending and helps the instant creation of different characters when you have even the principals doubling.
Emma McDonald, charming as Hero, makes a great hit as comic copper Dogberry and she becomes a double act with Anne-Marie Piazza's Verges, the dullard opposite of her sharp-witted Beatrice. Nick Howard-Brown switches in moments between Benedick and bad boy Borachio (later repentant) and Jennifer Clement, among other roles, provides Hero's spritely maid Margaret in contrast to her dour Don John (whom she could make much more evil).
Denis Delahunt gives Beatrice's father Leonato a relaxed authority; he and Bianca have a naturalness that heightens the sense of the role-play the others are engaged in.
Some of the Beatrice/Benedick sharp-witted exchanges come too fast for thought—but they may have a stored up ready responses and when this pair's performances hit a high point when they drop their defences and let feelings show through.
That a cast of only seven plays all the characters is wonderfully worked out but does leave things a bit thin when the scene is a masked party, especially when half of the cast are providing the music as instrumentalists.
This production is a promenade only between scenes when there is no real action. There are seats for almost everyone at each location rather than action among the audience so it becomes very noticeable that only three people are dancing. A return to the style of earlier promenades that kept much more of the action in motion and when appropriate invited audience participation would not only provide more immersion but people the place when needed.
Though the London evening lacked any vestige of Sicilian sun, this Much Ado still brought a joyful brightness to Covent Garden's garden churchyard. At its heart is a well-matched pair of sparring partners and I have never seen a Dogberry and Verges that worked so well.
Reviewer: Howard Loxton