Much Ado About Not(h)ing
William Shakespeare
Adaptivity Theatre Company, in collaboration with N2P
The Cockpit
–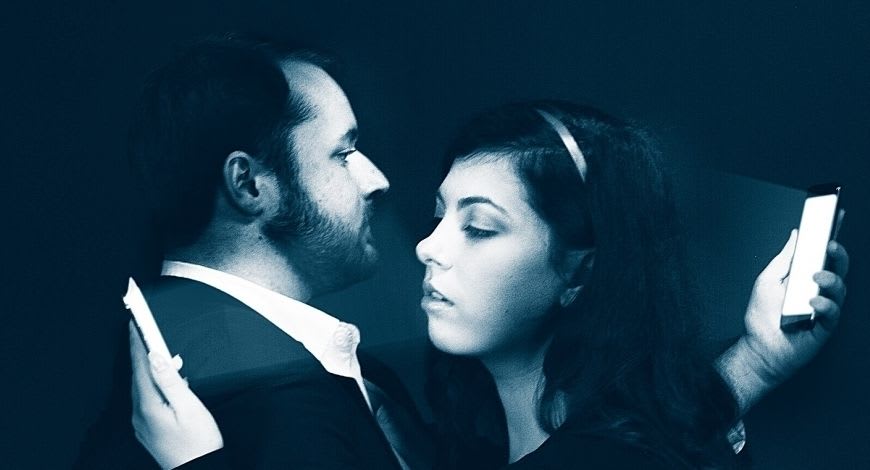 Soldiers returning from the war against Afghanistan, audience members invited to post on Facebook during the play, this is a distinctly 21st century Much Ado About Nothing.
And these aren't the only variations on the play from Adaptivity Theatre Company. Don John becomes Don Nicola Joan who inevitably gives a gender slant to her vow "not to sing in my cage" and the words of Friar Francis in a crucial scene are spoken by Beatrice.
Various musical numbers are interspersed across the play with most of the characters getting the opportunity to sing.
Selective deletions including all the antics of Dogberry's shambolic police allow the play to be completed in just under ninety minutes.
But the show's ambitions are hampered by its own innovations.
Told Facebook was necessary for the performance, the audience would with different degrees of success, connect to a closed group forum, where they could post alongside comments and GIFs from characters and the technician. But without being given a specific role, the audience posted such comments as "these seats are hard." More seriously, while scrolling through material on a smartphone, it was easy to lose track of what was happening on stage. It didn't seem to add anything to the play and simply became a distraction.
The show opened with a bandaged soldier speaking via phone video link from a bed in a combat zone. A little later, there is a short choreographed dance sequence of soldiers against a backdrop of screen projections of soldiers in heroic desert combat pose. Beyond these limited references, the theme is abandoned and in no way seems to shape what happens in the play.
If social media and the war in Afghanistan struck a very contemporary note, the musical numbers seemed to carry us off to somewhere back in the 20th century, and were not always appropriate to the action.
One of the most shocking scenes in the play is the public humiliation of the young woman Hero (Robyn Caldwell) by the man she had intended to marry. It is the immediate grief and fury of Beatrice that best reflects the horror we feel at what has happened. Yet this production, in which Tamsin Lynes gives a fine seriousness to the role of Beatrice, undermines the moment by framing what she says with on one side her character having to calmly speak the lines of Friar Francis and on the other side dance to music in the style of a 1930s Noël Coward. To make matters worse, no sooner has she finished being in command with the words of Friar Francis than Benedick asks her if she had "wept all this while." Hadn't he noticed anything?
Although always watchable, this production struggles too often with its own distracting innovations.
Reviewer: Keith Mckenna