Much Ado About Nothing
William Shakespeare
Guildford Shakespeare Company
The University of Law Grounds
–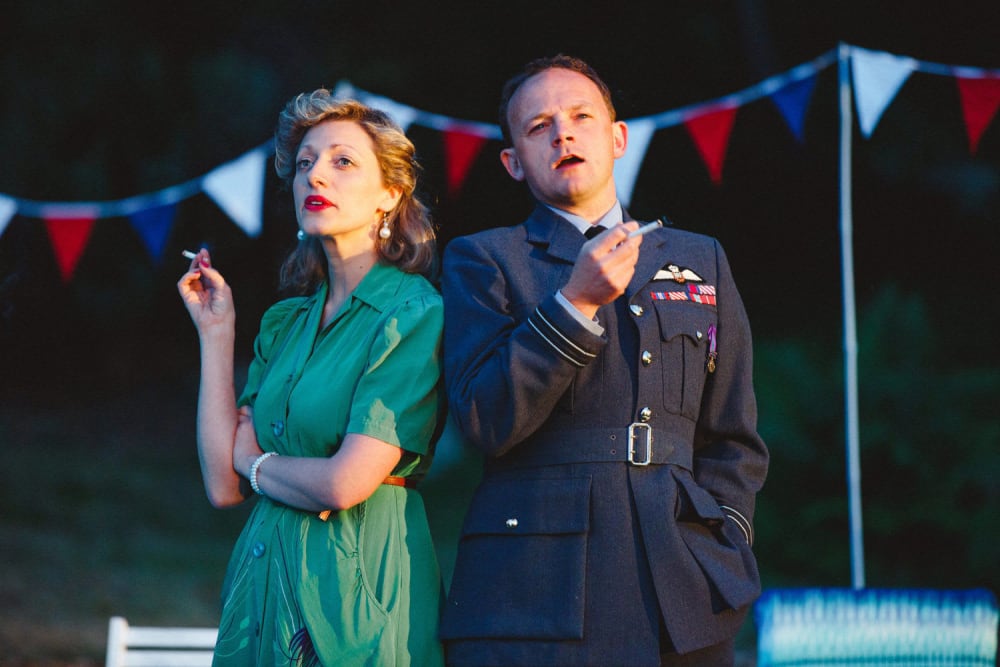 Bursting into spirited life, Guildford Shakespeare's Much Ado opens with rousing music and excitable Land Girls, setting both tone and context for the returning airmen. Taking the most romantic elements of the '40s, the overall atmosphere is one of joy and sentimentality drawing even more attention to the sharp dry wit of old flames Beatrice and Benedick.
Reprising their roles, Sarah Gobran and Matt Pinches sparkle—tongues dripping with sarcasm but mannerisms belying their true feelings. The interplay is snappy and the gradual realisation of their predicament handled with so much pride and uneasiness that their union is all the more comical and believable.
Pinches in particular excels, creating a swaggering but ultimately likeable Benedick who is clearly far more emotional than his cocky, dashing image suggests. The famous staged conversation scene contains some genuine laugh-out-loud moments including a tangle with tennis net and business with a blanket.
The decision to consciously reference Dad's Army for the City Watch adds hugely to this sense of fun and although a cheeky gimmick is so well executed that it adds a whole layer to the existing comedy.
Morgan Philpott provides a hilarious turn as Captain Dogberry, contrasting perfectly with his dark and brooding Don John, and Faye Winter displays comic timing in the role of Private Seacole that makes it hard to believe that she is also doubling as straight-laced Hero.
The froth of the surrounding scenes gives way to a dramatic middle section and this is what gives Much Ado far more depth than is often remembered or indeed played. Through Tom Littler's skilful direction, this turning point reveals many facets of the characters revealing tenderness in Benedick but also a fire within Leonata. Changing the gender of this character suddenly makes sense and Fiz Marcus's distraught speech demonstrates her suffering as a mother.
Although set in the gardens of a country house with pool and tennis court (which is used delightfully), the informal setting changes quickly as Simon Nock's Don Pedro slips from gentleman of leisure back into his leadership role and Richard Pepper's Claudio visibly hardens his heart.
The pace at this point is crucial and the difference between the frenetic movement (and dance) of earlier scenes and the sombre exchanges at this stage lend the plot credibility and allow the cast to really explore their characters' darker sides. Thankfully, the doom and gloom does not last long and the final scenes return to an upbeat atmosphere helped hugely by Hayley Doherty's animated Margaret and Tim Hudson's kindly priest.
In this energetic production, not a single word is wasted, every small look is maximised for comic effect and every inch of the staging made use of. With a liberal sprinkling of absurdity, touching dramatic moments and inspired doubling Guildford Shakespeare's anniversary production is a sure fire summer hit.
Reviewer: Amy Yorston