Much Ado About Nothing
William Shakespeare
R.J. Williamson Company: Nottingham Castle and Touring
(2004)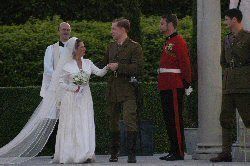 Each year there's one play by the Bard that's so popular it seems virtually every company both amateur and professional is performing it. The current favourite appears to be Much Ado. So only a fortnight after seeing my local Shakespeare society's production, I sat down to watch the R J Williamson Company doing the same play on the final evening of their four-week Nottingham residency.
In some respects it was a sad occasion because it was Robert Williamson's swansong as an actor with his own organisation. This summer he's stepped back and is performing in only one of the two plays he's taking on tour; next year he'll be concentrating on directing and producing. Whether he'll get the urge to tread the boards again after a brief break is unclear, but open-air theatre without Williamson would be unthinkable, like explosive without a detonator.
He's certainly going out with a bang. He gives a superb performance as Benedick: his transformation from the confirmed bachelor into the dutiful lover who retains his sense of honour is totally credible. He also wrings out every last comedic moment without resorting to slapstick.
There's plenty of chemistry between Benedick and Beatrice. Penny Woodman, a success as Olivia in this year's other RJW production Twelfth Night, is just as delightful as Beatrice. They make a very matched couple.
Williamson co-directs Much Ado with Frank Jarvis. They've set the action just before the First World War which works because references in the script to swords and the prospect of a young woman dishonouring her father are not out of place.
The young woman in question is played by Carly Hillman, formerly schoolgirl Nicky di Marco in EastEnders. She gives a mature, confident performance as the wronged Hero.
Jamie Maclachlan who woos then spurns Hero gives an impressive performance as Claudio. It's not one of Shakespeare's greatest characters and Claudio can easily come over as weak and wet. Maclachlan gives him spirit, gravitas and doesn't descend into self-pity.
As for the humour, Norman Pace who's becoming known as an actor as much as a comedian portrays Dogberry as a sergeant-major type, full of bravado and without subtlety. David Patterson as Verges and Wayne Cater as his sidekick get laughs with their facial expressions as well as their lines.
There's an intriguing portrayal of Don John by Matthew Rowland-Roberts who presents him as a caddish, public school-educated army officer. For me, the interpretation didn't work as much of the menace of the character was missing. But that didn't stop sections of the audience playfully booing when he came out for the curtain call.
RJW's Much Ado has pace and charm. It succeeds, as all the company's productions do, in making Shakespeare enjoyable and accessible to all ages.
This summer's rotten weather has placed even more stress than usual on Williamson who's one of this country's last actor-managers. Next year he'll have to bring in someone who's extraordinarily talented to replace him on stage if the company's to maintain its reputation as the leader in open-air Shakespeare.
"Much Ado about Nothing" plays at Cannizaro Park, Wimbledon until Saturday; Holland Park from August 10th to 15th; and Leeds from August 17th to September 12th.
Reviewer: Steve Orme