Much Ado About Nothing
William Shakespeare
The Peter Hall Company
Theater Royal, Bath
(2005)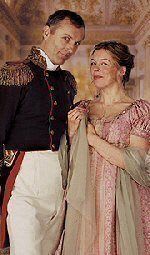 Gillett – the best a man can get? On this evidence, light-footed and amiable as he is in the role of Benedict, I'd have to say, no. Nicholas le Prevost brought something darker, more disquieting to the role in Gregory Doran's production for the RSC a few years back after Cupid had struck.
Some critics have made much of the notion that Hall's production is more tenebrous than usual with more than a little 'something of the night' about it. Not to my mind. There is rather, to quote Virginia Woolf, less of the shade and valley than one might wish, albeit that the production isn't quite bathed by the overwhelming sunniness of Kenneth Branagh's big screen adaptation.
Gillett is partnered by Janie Dee as Beatrice – the two were last seen together in 2003's Design for Living. The play itself is partnered with another study of sparring lovers, that of Amanda and Elyot in Coward's Private Lives. Hall opts to set Much Ado, remarkably his first production of the play, the play in Napoleonic times and, more specifically, Jane Austen's England. It's a shrewd move but one which seems at odds with the distressed medieval castle courtyard setting.
Gillett, far more at home in his role than Dee, one feels, works the audience well in his direct addresses, but the early flyting with Beatrice fails to take, well, flight.
The subsequent scenes, too, in which the two members of the match made in hell – do we really believe they will live happily after? – are persuaded of the other's love are a little forced, although Gillett quickly gets into his stride from hereon in. There is fine comic support too from Sam Waters as the constable Dogberry, potentially a thankless task. He has, one critic pointed out, something of Arthur Lowe's Captain Mainwaring about him. One might add, Will Hay too.
The excellent Philip Voss, a fine Jacques here two years ago, misses, for my money, the rage that Gary Waldhorn brought to the role of Leonato, Governor of Messina, in Doran's production in the wedding scene in which Hero, his daughter, is denounced as a whore. And the power of the scene too is diminished severely by Hall's decision to reduce the watching congregation to a mere half a dozen.
There is fine work by Charles Edwards as Don Pedro, Prince of Aragon, whose sense of honour is revealed to be something rather more petulant and squalid. In a lovely final touch, he stalks off into the night, leaving behind the dancing wedding party of Benedict and Beatrice and Hero and his friend Claudio, once he realises that he has been duped and Hero isn't in fact dead.
One critic has been persuaded by this production's undoubted charm to award it a maximum five stars. While I wouldn't deny the entertainment this production offers, the assessment would seem a little over-generous. But it is attractive to look at, superbly staged and well worth a visit.
Reviewer: Pete Wood