Much Ado About Nothing
William Shakespeare
Chapterhouse Theatre
Sunderland Empire and touring
(2007)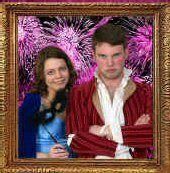 (Note: this production was originally programmed to be performed outdoors at Herrington Country Park as part of the Empire's Centenary celebrations, but bad weather necessitated its relocation to the Empire itself.)
The relentless rain put a dampener on Sunderland Empire's Centenary celebrations with the open air production of Much Ado About Nothing forced indoors to avoid a washout.
Firstly, Chapterhouse Theatre Company should be commended for transferring its production into the shelter of the Empire at such short notice. I'm not sure whether the last minute move deterred outdoor theatre lovers but the modest audience and sudden lack of a beautiful country park backdrop may have contributed to why this adaptation failed to be "much of ado." I must confess at this point to being spoiled earlier in the week to an RSC production led by Sir Ian McKellen, which did raise the bar to quite an unattainable height.
What would be billed these days as a light-hearted 'romcom' Much Ado About Nothing follows young lovers Hero and Claudio who are to be married in one week. To pass the time, they conspire with Don Pedro to set a "lover's trap" for Benedick, an arrogant confirmed bachelor, and Beatrice, his favorite sparring partner. Meanwhile, the evil Don John conspires to break up the wedding by accusing Hero of infidelity.
Despite being perhaps Shakespeare's most popular comedy I found it difficult to laugh out loud. The rest of the audience might vehemently disagree with me though as they seemed to lap up the slapstick moments. The interjections of music from the actors were a nice idea and worked well at times (namely when the guitarist played) but there were some truly cringe-worthy moments, i.e. a painfully flat flute, some awful singing and an awkward and embarrassing rendition of 'Hey Nonny' by three of the principal men in the first half.
However, there were several positive elements to this production, which went some way to counteract the negatives. Chapterhouse's answer to Ewan McGregor, Simon Michael Morgan, was by far the strongest thing about this play. He played each trait of his character with ease and was convincing at all times. Eleanor Jones came to life in the second half and was likeable and funny as Margaret and John Rayment was well cast as Don Pedro.
Nicola Weeks was completely melodramatic as Beatrice but this seemed to blend in more successfully as the play went on. Cassandra Wilson made little impact as Hero and Jay Howard was much better suited to the Benny Hill-type watchman he played in the second act than to the authoritative Leonato.
Again, I want to reiterate that Chapterhouse did well to transfer Much Ado into an indoor setting literally overnight. But perhaps the incomparable atmosphere of a summer's evening would have helped make this production a worthy contributor to the Empire's centenary celebrations.
Reviewer: Emily Taylor