Much Ado About Nothing
William Shakespeare
Library Theatre, Manchester
(2006)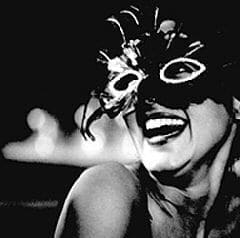 The Library's latest offering is Chris Honer's production of Shakespeare's Much Ado About Nothing, which, even with some doubling, has a cast of fourteen actors. This story is probably the earliest example of the plot that became a cliché of romantic comedy films, where a couple begin hating each other and end up falling in love. However there are much darker goings-on in this play amongst the comedy scenes.
Resident designer Judith Croft has created an impressive setting of a courtyard between two diagonal buildings, with plenty of doors, stairways, Romanesque archways and a few potted plants for the actors to move between and hide amongst. The main love match on this court is played by Peter Lindford and Lucy Tregear as quite a laid-back Benedick and Beatrice - in fact the whole production is a little laid-back and 'middle-class', with battles conducted using word jousting with little physical display of emotion. Christopher Wright and David Peart are particularly strong in their roles of Don Pedro and Leonato. David Crellin's portrayal of Don John works quite well, even if it borders on the pantomime villain, but he has created an excellent Dogberry character that gets plenty of humour out of the role. In the smaller roles, Catherine Grose is very good as Margaret, and Simeon Truby plays both Balthasar and Borachio and gets to demonstrate a very nice tenor voice, despite a few problems with a drifting moustache.
The production seems to focus particularly on the darker side of this play, and the pace really slows down at times to emphasise the angst of some of the characters. However there are still some very well-planned and well-executed comic scenes. Chris Honer has directed an entertaining and enjoyable production of this play, which ends with a very impressive and energetic dance routine by the whole company from choreographer Francesca Jaynes to music by Jon Nicholls.
"Much Ado About Nothing" runs until 18 March 2006
Reviewer: David Chadderton