Mum's the Word
Linda A. Carson, Jill Daum, Alison Kelly, Robin Nichol, Barbara Pollard and Deborah Williams
New Victoria Theatre, Woking, and touring
(2007)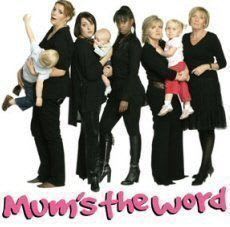 In the spring of 1993 six women who had been poised, sophisticated, glamorous professional actresses found that, with ten children under six between them, they were now bedraggled, exhausted, worried mothers – and amateur mothers at that. No training, no apprenticeship and conflicting advice to contend with both from people and books. This is their story – a straight unexpurgated description of Life with Babies. I hope that the few 'ladies-in-waiting' in the audience weren't put off by the account. It's too late to change their minds.
Beginning with the graphically portrayed agonies of birth, we are spared nothing. Milk is sprayed from swollen breasts, a chair is regarded longingly - dare she sit down for a moment - an exhausted mother rocks her baby up and down, up and down, and has been doing this so long that she cannot stop even when she puts the now sleeping child down. "This is not university," says one, "but now I have a degree in shit management", as she describes her method with dirty nappies. Another finds conversation with her husband difficult now she has nothing interesting to tell him about her daily routine, and resorts to writing notes to try to explain her feelings.
Then we get onto 'Puppetry of the Penis' and the notion of resuming sex – well, don't even mention the banana, but it had the men in fits of laughter too. The women in the audience (hardly a man to be seen) are with the story every exhaustedly hilarious step of the way, recognising themselves in every situation – been there, done that, remember it well! My guest for the evening said she couldn't remember when she had laughed so much and returned home to spread the news to all her female friends and relatives.
There is also the moving tale of the premature baby who was held up for the mother to see as he was whisked away to an incubator "and love entered my body". It was several heartrending months later that he was finally allowed home.
The women have totally different personalities, but each one has similar situations to deal with. We've all had a Lost Child and know the terror that brings – how do they manage to disappear so suddenly? Here the child is lost in the changing room of a swimming pool resulting in a panic-stricken streak across the stage – twice. I think the second time was unexpected as it had the rest of the cast unable to control their laughter too.
The cast are all mothers themselves – Bernie Nolan, Michelle Gayle, Kim Hartman, Rebecca Wheatley and Daniele Coombe - so they know exactly what it is all about, and they portray their characters superbly.
The women all fondly remember their past pre-baby lives as they discard their glamorous dresses, but do they wish to return to that life? Well – maybe sometimes, but overall their children are perfect little angels, it's just that "sometimes their wings are hard to see".
Touring to Hayes, Sunderland, Poole, Southend on Sea, Birmingham, Dundee, Manchester, Glasgow, High Wycombe, Bromley, and Bristol.
This review was first published in Theatreworld Internet Magazine
Reviewer: Sheila Connor