Mum's the Word
Written by Linda A. Carson, Jill Daum, Alison Kelly, Robin Nichol, Barbara Pollard & Deborah Williams
A Robert C. Kelly Limited Production
Darlington Civic Theatre and touring
(2010)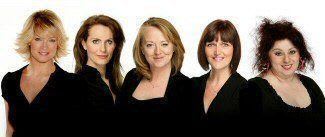 Essentially, Mum's The Word is really rather similar to The Vagina Monologues but instead of three women perched on stools talking about , erm – well, you know, vaginas – you get five seated women talking, at great length, about motherhood and sprogs.
Gillian Taylforth leads the cast, stepping in as a last minute replacement for Bernie Nolan who had to withdraw from the tour due to illness, and she does an admirable job. Her warm, gravelly voice is well-suited to the role of straight-talking mum, Robin. She is joined on stage by two other former soap actresses, Tracy Shaw (Coronation Street's Maxine Peacock) as Jill and Sally Ann Matthews (Coronation Street's Jenny Bradley) as Alison. Mandy Holliday and Susie Fenwick complete the line-up, although on press evening at Darlington Miss Fenwick was indisposed and understudy Kaye Quinley performed the role of Deborah.
Initially, I have to say, the production left me feeling rather underwhelmed and rather bored. And before anybody jumps to the conclusion that, because I'm a guy, I wouldn't 'get' the show, let me set the record straight. During my time as a reviewer, I have seen productions including The Vagina Monologues, Menopause: The Musical, Hot Flush! and Women on the Verge of HRT and 'got' at least three of them totally.
However, I have to say that my personal tolerance of endless monologues on dirty nappies, snot, urine, faeces and vomit isn't particularly high. Sure, I guess if you've experienced motherhood, you've experienced your fair share of all the aforementioned, but what about those in the audience who have not? The main difference between Mum's The Word and the other female-orientated productions is that it excludes those who are not mothers, whereas the others don't.
The first act was a rather lacklustre affair for me, although I don't attribute the blame for this to the actresses nor the director, Andrew Lynford. In my opinion, the script is to blame and I suspect that having been written by six women, it has suffered from too many cooks spoiling the broth.
The second act was considerably better, though, and there were some genuinely funny moments, particularly during parodies of The Weakest Link, during which Kaye Quinley gives an eerily accurate impersonation of Anne Robinson, and Puppetry of the Penis, in which Mandy Holliday interacts with a pink sock penis puppet.
Although Mum's The Word is by no means a slick, stylish and successful comedy in my opinion, I must point out – in the interests of fairness and balance – that it has attracted some great actresses in its eight-year history, including Blythe Duff (Taggart), Jenny Eclair (Grumpy Old Women), Patsy Palmer (EastEnders), Kim Hartman ('Allo, 'Allo) and Maureen Nolan (Blood Brothers), and that the largely-female audience seemed to enjoy the show immensely and cackled in delight and recognition.
Runs at Darligton until Saturday 19th June 2010, before touring to Windsor, Worthing, Birmingham, Grimsby, Sunderland, Manchester, Derby, Woking, Surrey and Cheltenham
Reviewer: Steve Burbridge