Murder by Numbers

Manchester Murder Mysteries
The Kings Arms
–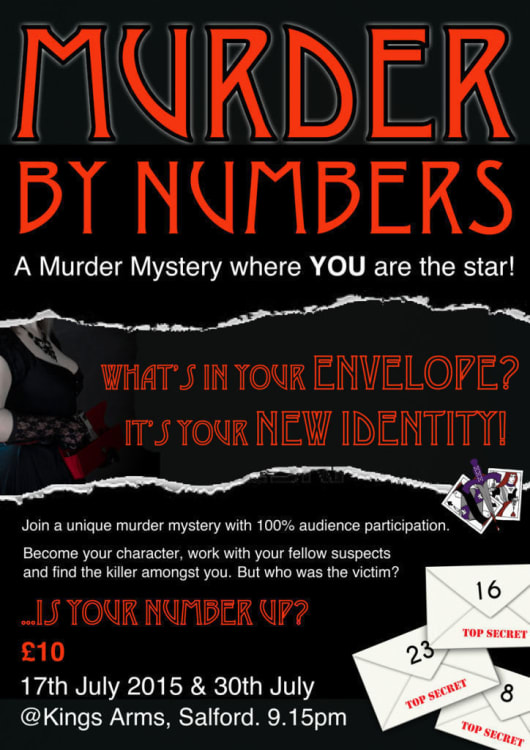 Manchester Murder Mysteries are newcomers to the Greater Manchester Fringe, and what they offer certainly stands out from the rest of the programme. Their show, Murder by Numbers, takes place in the Kings Arms theatre and is as much a party as it is a performance.
On entering, each audience member is given an envelope containing details of the character he or she will play that evening—either a suspect, a witness or a victim—and directed to a seat at a table.
With the other characters at that table, they form a team that must unravel the information given to them via acted scenes and written clues to produce a theory about who killed who, how and why. Each character must also take to the stage—or in this case, microphone stand—and either read a short monologue or play a part in a scene.
The basic layout of Murder by Numbers works well. The two hostesses—entertainingly named Bette Noire and Fran Fatale—explain things clearly and keep the audience on track throughout. As the sum total of the cast, they have their work cut out for them!
Each team must earn clues to help solve the mystery by correctly answering sets of questions, completely unrelated to the murder storylines but all to do with numbers. There's trivia, film clips and even a Countdown-themed round. This straightforward exchange of information is a welcome change from the interrogation of characters common to most murder mysteries, which can get very tedious.
Of course, shows that entail such a high proportion of interaction live or die on how invested their audiences are. Working in a team with complete strangers could dampen even the most enthusiastic detective's creativity, whereas the large groups gathered together round the tables seem to really enjoy themselves. It's clear why Manchester Murder Mysteries offer their services for private parties and bespoke events.
The pub quiz feel to Murder by Numbers might not appeal to everyone. Guessing the number of sweets in a jar or playing an Aldi version of The Price is Right isn't exactly conventional murder mystery fodder, but it keeps the atmosphere fun and relaxed. On occasions when an audience isn't as responsive as at the Kings Arms, some costumed actors might help to get the ball rolling.
Manchester Murder Mysteries presents more of its shows in Manchester later this year—no doubt they will be as engaging, well-organised and enjoyable as this one.
Reviewer: Georgina Wells