Murder for Two
Joe Kinosian and Kellen Blair
Watermill Theatre in association with Paul Taylor-Mills
Watermill Theatre
–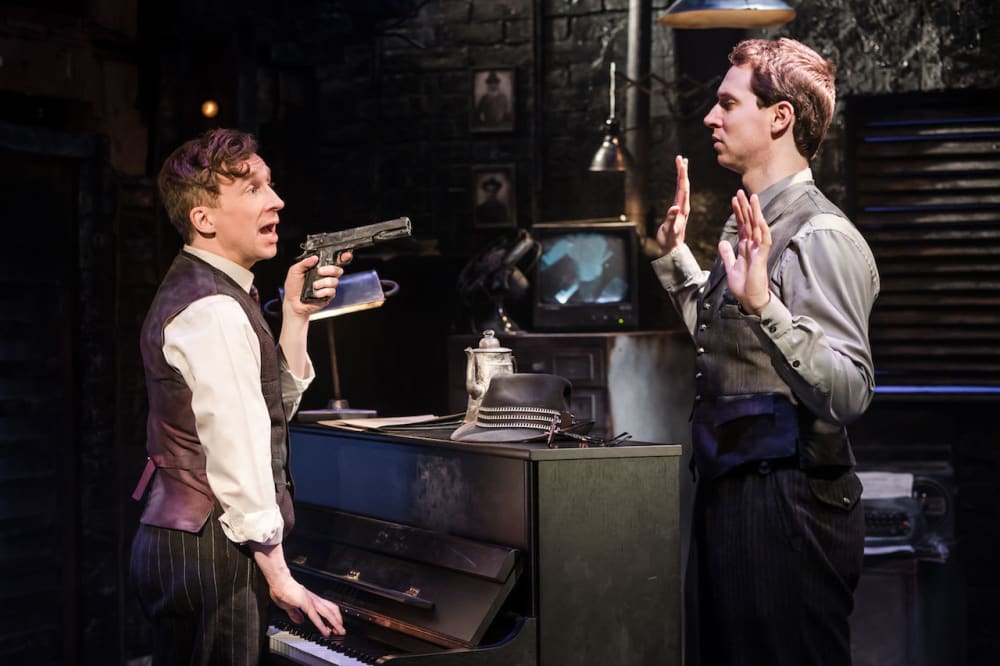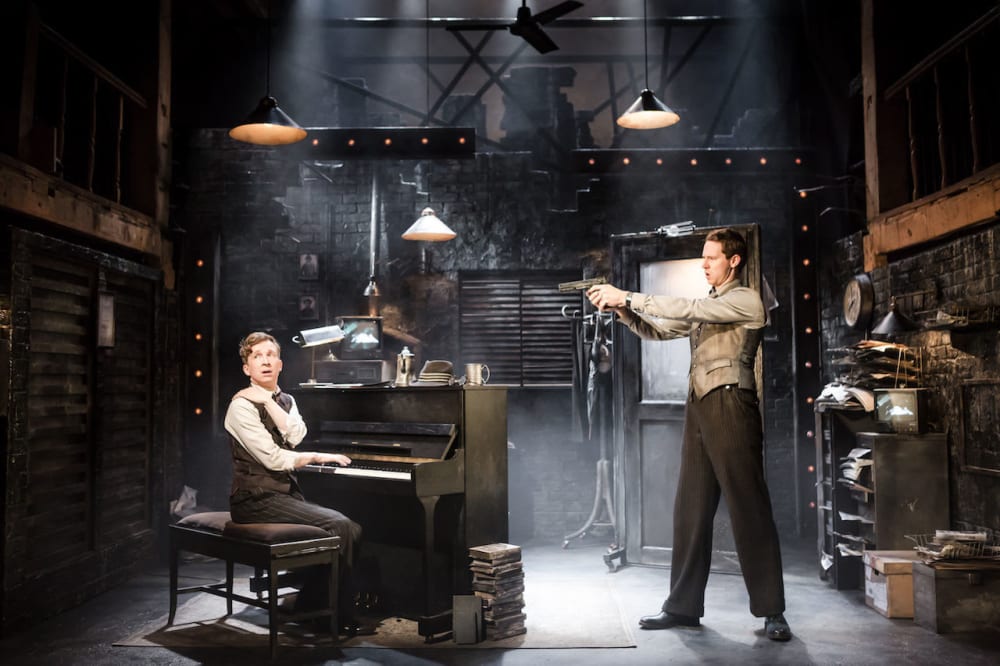 The highly successful Watermill Theatre is celebrating its 50th year and this golden anniversary season opens with the British stage première of Murder for Two by Joe Kinosian and Kellen Blair.
This splendid musical is homage to the whodunit murder mystery genre, impressively performed by two highly talented actors.
The atmospheric set by Gabriella Slade creates the American small-town mansion of crime novelist Arthur Whitney with a piano centre stage.
Ed MacArthur astutely plays the local cop Marcus Moscowicz, who has high ambitions to become a detective.
So when Whitney is discovered lying dead on the floor having been shot in the head at his surprise birthday party, Marcus seizes the opportunity to try and solve the crime before the real detective arrives and make a big impression to further his career.
Jeremy Legat plays all twelve of the suspects with alacrity using nothing more than a pair of glasses, a hat, changes in voice and gesture to breathtakingly create the different characters with aplomb.
They include the now widowed vivacious Dahlia who is hoping to make a comeback in musical theatre and her enthusiastic sweet niece Steph, who is studying for a masters degree in criminology. Then there is a feisty old couple Murray and his wife Barb who live nearby.
Particularly effective is the portrayal of the ballet dancer Barette with a seductive English accent and Henry Vivaldi, the proud Italian firefighter.
Then there is the zany psychiatrist Dr Griff and three nine-year-old choirboys who are recovering from a camping disaster.
All of the suspects have a motive for committing the murder as Whitney has included them in his various novels and not particularly kindly.
The actors are also accomplished pianists, accompanying themselves on the piano or playing a virtuoso duet.
Murder for Two is a madcap, funny romp filled with cracking one-liners as the plot twists and turns as Marcus follows the "police protocol" to solve the murder with hilarious results.
The music and the lyrics are witty and director Luke Sheppard, returning to the Watermill following his highly successful 2015 production of Oliver, ensures that the pace is frenetic and creates a hugely enjoyable production.
It transfers to London's The Other Place Studio from 2 to 18 March.
Reviewer: Robin Strapp