Murder in the Small Hours
Francis Durbridge
The Classic Thriller Season 2012
Theatre Royal, Nottingham
–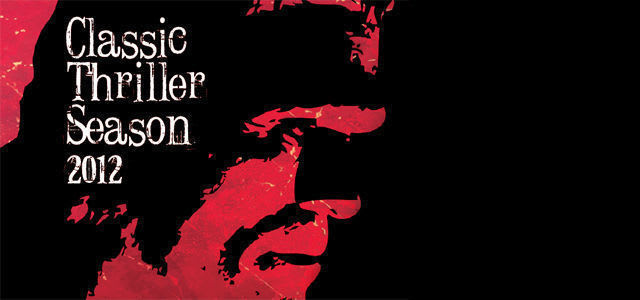 Summer can be a lean time for theatre; take a look at most of the listings and they usually feature productions for children, outdoor performances and a smattering of Shakespeare.
More than 20 years ago, Nottingham bucked the trend by introducing a four-week rep season of good, old-fashioned plays which put entertainment at their core.
Colin McIntyre's Classic Thriller Season has been going ever since and continues despite the death last year of the man who masterminded the event.
In fact last year was a record-breaker for attendances, prompting programmers Tabs Productions to add a fifth week to this year's line-up.
Some people used to regard the Thriller Season as twee, mediocre and lacking gravitas. But in recent years there's been a marked change: directors have dumped the melodrama and actors have harnessed the hamming, upping their performances in the process.
I first started going to the Thriller Season in 2003. In those days you could spot a couple of weak links in the cast—but the quality of the acting now is much better.
Any members of the company who are still coming back to Nottingham each summer do so because of the enjoyment—not because they can't get a job anywhere else.
This year the company is keeping things fresh by presenting five plays which have never been performed as part of the Thriller Season.
Written in 1991, Murder in the Small Hours was Francis Durbridge's penultimate play. It's a complex murder mystery from the man known as the "master craftsman".
Director Patric Kearns sets it in the 1980s, a time of electric typewriters, cassette tapes and immobile telephones.
After a terrorist causes pandemonium on a plane, hotel owner Carl Houston tries to find out why his life is in danger and who wants to kill him. There are the usual Durbridge sub-plots and red herrings before we find out whether there's any significance to a missing soft toy, a koala.
Nicholas Briggs, one of the stalwarts of the Thriller Season company, gives an excellent portrayal of Houston who doesn't tell the whole truth about a trip to Australia.
Briggs shows all the anguish and anxiety of a man who can't understand why a chance remark should put him in such an unenviable position. At times, though, he does overdo the slapping of his forehead and hand gestures as his suffering increases.
Karen Henson gives an understated, controlled performance as Houston's wife Vanessa, giving the impression of a natural conversationalist whose lines are not rehearsed.
John Hester, confident, clear and composed as senior police officer Westwood, has become a hugely important member of the company and gives another satisfying performance.
There's also a delightful vignette from another regular, Jo Castleton. She smoulders and simpers as PA Ruth Wyatt, giving the suspicion that she might have a much larger involvement in the plot.
On press night, the ending wasn't quite as slick as it might have been—no doubt because there wasn't a lot of rehearsal time.
Overall, though, Murder in the Small Hours is a solid, enjoyable evening which will enhance further the reputation of all those associated with the Classic Thriller Season.
Reviewer: Steve Orme