Murder, Margaret and Me
Philip Meeks
Tilted Wig Productions, Malvern Theatres and Churchill Theatre Bromley
Festival Theatre, Malvern
–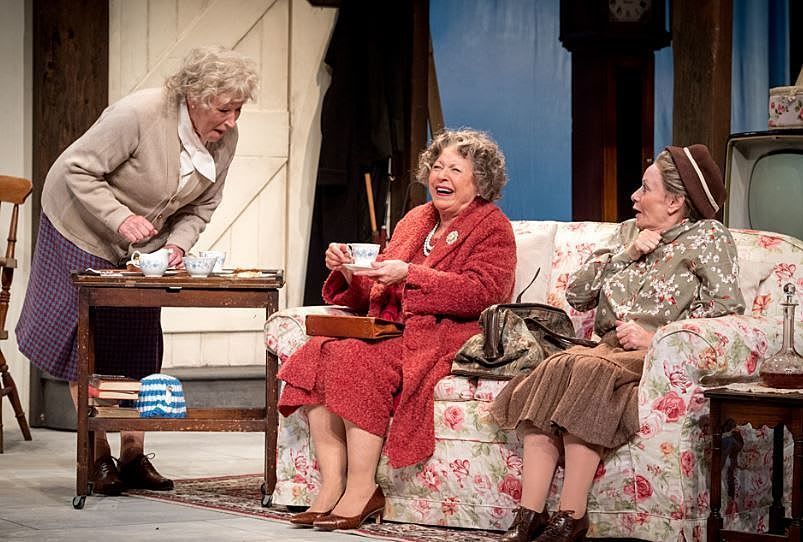 It was a dream part, but why should Margaret Rutherford have been so reluctant to be the first to play Agatha Christie's Miss Marple?
Nor was the author ever convinced that the country's leading comedy actress accurately personified the fictional sleuth she had created.
Yet the pair forged an unlikely friendship—at least in this funny and poignant version of events imagined by playwright Philip Meeks.
Sarah Parks is an impressive Rutherford—Peggy as she liked to be known—who sallies forth, cheeks billowed, a mighty galleon in cardigan and tweed, with a home to match, a country house of afternoon teas, stuffed animals, egg cosies and blancmange in a bunny mould.
But as the real Rutherford once remarked, "every great clown has been very near to tragedy."
And although, to explain her unwillingness to take the part, she claimed Christie's plots were sordid, the thriller writer suspects some other factor at work, and turns detective herself to discover the truth.
Agatha, played by Lin Blakley, best known as Eastenders' Pam, has a secret of her own, and is still haunted by the husband who abandoned her for another woman. "I still hear his voice, but it's cold and it doesn't say what I wanted it to say," she confesses.
The truth, about Christie's well-publicised disappearance and Rutherford's past, comes out partly at the prompting of Gilly Tompkins's narrator / provocateur, known only as The Spinster.
Blakley breaks through any impression of Christie as a robotic word processor with a confession befitting a writer who sometimes found more sympathy with her murderers than her victims, and a few uncertainties in her delivery in no way detracted from its conviction.
And when the splendid Parks is persuaded to unload the truth that has burdened her life for so many years, I guess there was scarcely a dry eye in the house.
There's an attractive and informative programme to accompany the show, but for those who don't want to know the ending, I'd advise they don't read Rutherford's biography until later.
Reviewer: Colin Davison