Murder, Margaret and Me
Philip Meeks
Salisbury Playhouse Production in association with York Theatre Royal
Salisbury Playhouse
–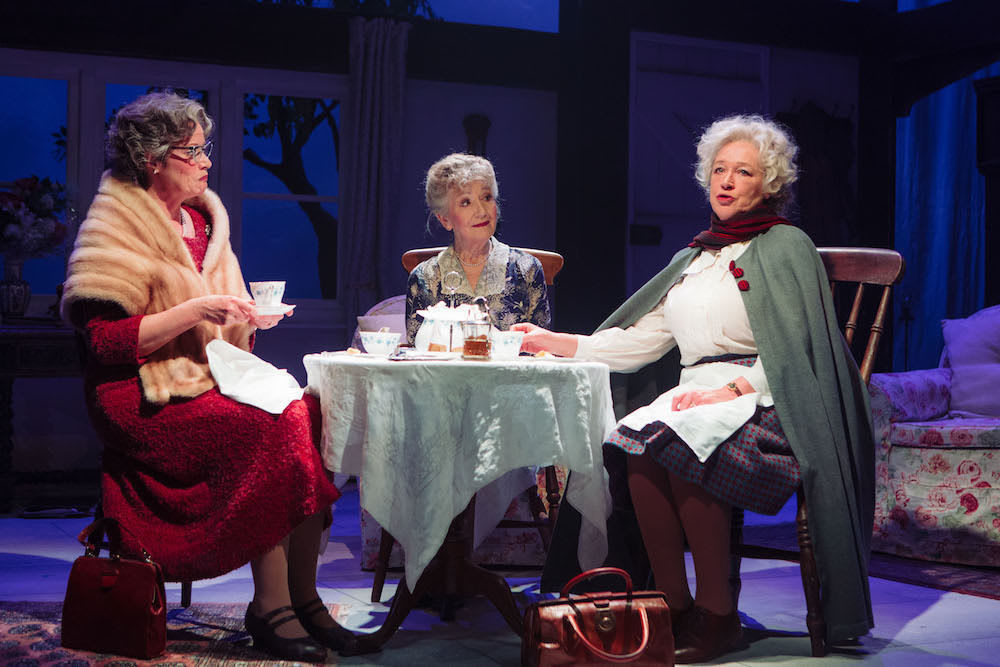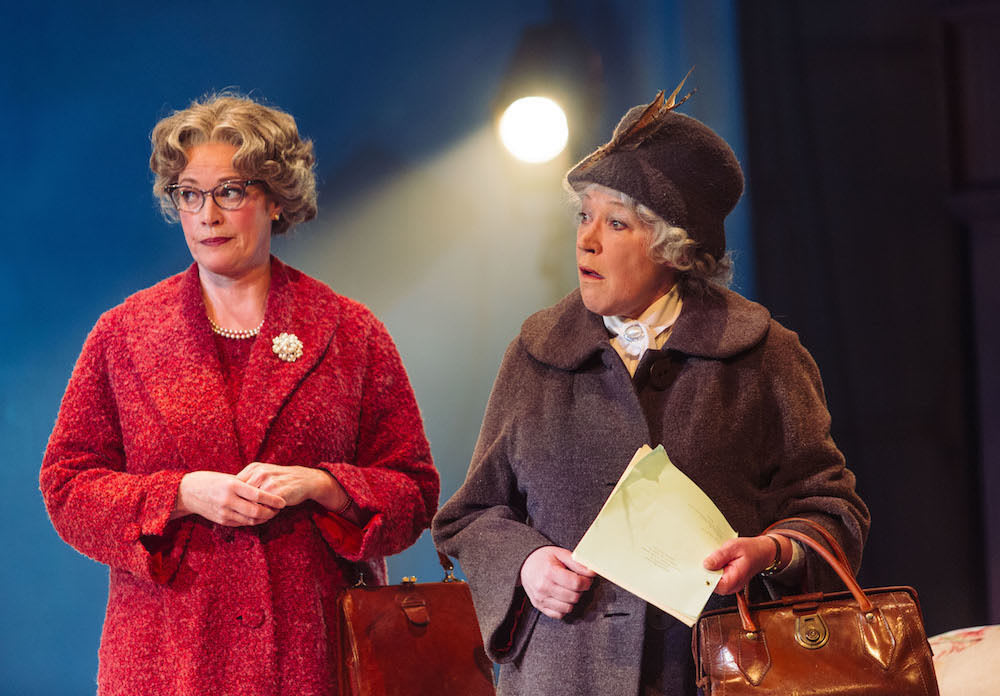 You've got to hand it to Agatha Christie. When libraries and bookshops, as well as television and films, are flooded with crime fiction, Agatha, it seems, is still as popular as ever.
How did she do it? Fifty-two novels and nine short story collections? I mean, you can't imagine the length of time it would take to read them all, let alone write them. No digital voice recognition in those days either. Just your trusted old Imperial typewriter with its ribbons which needed replacing every five minutes (you youngsters really don't realise how lucky you are).
The play opens with a set in which items of large furniture are covered in white sheeting. They're removed to signal the start of the action and will be put back just before the final curtain.
We're in the 'sixties, during which author Philip Meeks imagines an evolving friendship between Christie (Kate Brown) and the actress Margaret Rutherford (Sarah Parks), whom Meeks describes in the programme notes as "a sweet bundle of eccentricity." (True, they met at least once in real life and there is a photograph to prove it, but not much record, it seems, of anything beyond.)
We also learn of Agatha Christie's actual eleven-day disappearance in 1926 and her subsequent discovery in a flat in Harrogate. Worldwide public speculation about her possible fate would certainly nave matched anything in Christie's novels.
Now, both now well into their seventies, they have a shared history and we follow them through various locations, beginning and ending with a pleasant garden scene where they can enjoy the sunshine, sitting under a large laburnum tree, and then through a succession of interiors of varying grandeur.
In reality, we discover that the much-loved comic actress Margaret also has some very dark shadows overhanging over childhood, both her parents having committed suicide, her father first murdering her grandfather by bludgeoning him over the head with a chamber pot. (Yes. You get the idea that, somehow, comic associations are inevitable.) A strange kind of friendship then.
But we have another principal character, the fictional Miss Marple (Tina Grey), even stranger, and referred to in the programme as "Spinster".
She enters the dramatic action from the auditorium and, while on set, supplies plenty of useful information and comment as well as doing a lot of knitting. She is Agatha's alter ego and a vital component of the group.
Of course, there has to be an actual mystery involving Agatha and the other two and we are keen for it to be solved.
But there's another mystery for the audience which has nothing to do with Murder, Margaret and Me's plot.
It's to do with presentation.
Phillip Meeks is an experienced playwright, specialising in pantomime. He's written "hundreds" of pantos, according to the programme, and has played ten pantomime dames in his time. Theatres have just come to the end of their panto season. So why, with all this experience, was the audience not involved rather more? Why was the theatrical 'fourth wall', that transparent barrier between the stage and the audience, kept so firmly in place. With only three characters, we needed a bit more contact with their real thoughts and opinions. Even opportunities for audience reaction, at least, if not actual participation.
Okay. Moan over. All credit to the three actors; they had a frighteningly lengthy script to learn and interpret and did it superbly.
And it's really rather appropriate, isn't it? It can't be just a coincidence. At the very time we're celebrating the centenary of women first getting the vote, Millicent Fawcett, founder of the suffragist movement, with her strong Salisbury connections (she's mentioned on her husband Henry Fawcett's statue in the Guildhall Square), is due to have her own statue unveiled in Parliament Square this coming April.
And here we are, watching a piece of theatre in which women play all the roles and in which the men—also three in number—do not speak and are relegated to serving tea for the ladies and general scene shifting?
Now why is that so oddly satisfying?
Reviewer: Anne Hill