Murder, Margaret and Me
Philip Meeks
York Theatre Royal
–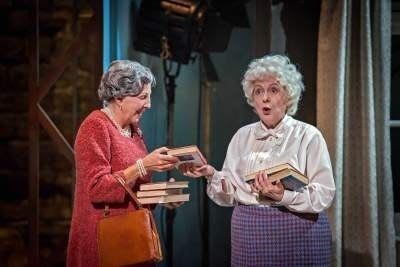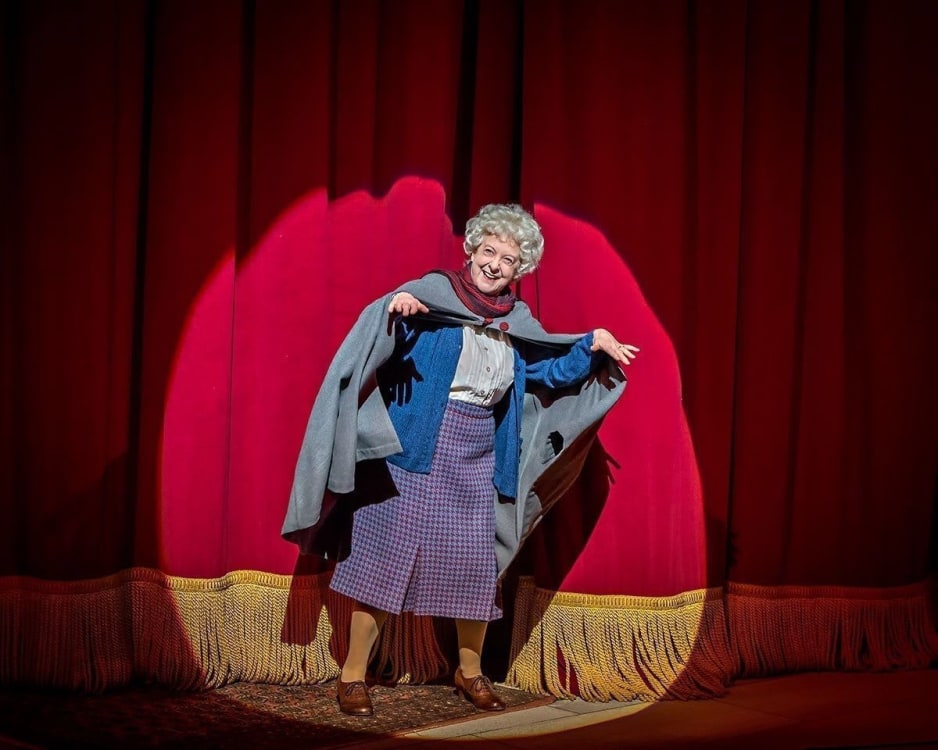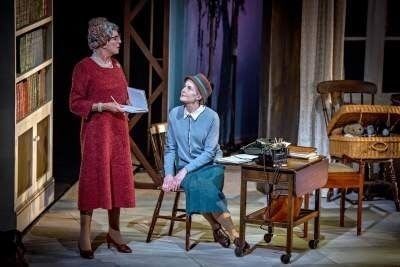 As a young boy growing up in South Shields, playwright Philip Meeks found himself drawn to two distinguished older women: Dame Margaret Rutherford, the actor once hailed as the 'funniest woman alive', and Agatha Christie, the undisputed Queen of Crime. The careers of these two extraordinary women crossed in the early 1960s when Rutherford was cast as the first big screen incarnation of Christie's beloved amateur sleuth Miss Marple.
Murder, Margaret and Me began life as a one-woman show at the Edinburgh Festival in 2012. In this new updated version, Meeks has expanded the play into a three-hander which imagines what the relationship between Rutherford (Susie Blake) and Christie (Nichola McAuliffe) might have been like. It's widely believed that they only met once—at a press conference for the first Marple film, Murder, She Said (1961)—but Meeks imagines them having a deeper, more intimate relationship.
Famously, Christie was critical of Rutherford's casting because the barrel-shaped actress, famous for her comic exuberance, didn't fit the author's vision of the character: she imagined her as tiny, gentle and bird-like. The third character in the drama, the Spinster (Andrina Carroll)—who also serves as narrator, setting the scene and filling in the gaps—embodies Christie's ideal vision of the character. However, the fact that the novelist would go onto dedicate her mystery The Mirror Crack'd from Side to Side (1962) to Rutherford suggests that she eventually changed her mind about her.
In Meeks's play, Christie is drawn to Rutherford because she senses a deep sadness lurking beneath her cheerful exterior—a sadness that she recognises in herself. Famously, Christie went missing for several days in 1926 and many commentators have linked this vanishing act to her first husband's infidelity: this is the plot of Michael Apted's film Agatha (1979), starring Vanessa Redgrave. Rutherford's family secrets are even more sensational, but I don't wish to spoil them for the uninitiated.
Although Murder, Margaret and Me has been advertised as a "comic thriller", this label is slightly misleading. Apart from some moody silhouettes at the beginning of the production, accompanied with Hermannesque music, the play is really a well-crafted (if rather conventional) comedy about a blossoming female friendship, brought to life by some top performances.
Susie Blake excels as Rutherford, conveying the character's unique eccentricity and charm without resorting to two-dimensional impersonation. I was particularly moved by the scenes in which she talks about her beloved husband (and Marple co-star) Stringer Davis. It's a shame that Meeks only alludes to Davis's secret homosexuality—his London jaunts with John Gielgud—without really exploring Rutherford's level of awareness.
Nichola McAuliffe's makes her first appearance at the York Theatre Royal since she delighted audiences as Madame Arcati in the 2014 production of Blithe Spirit. Her performance as Agatha is the perfect foil for Blake's Rutherford: dry, urbane and quick-witted. Like Blake, McAuliffe's comic timing is spot-on and she skilfully conveys Christie's internal conflict.
Andrina Carrol has been given a rather thankless role as the Spinster, but she invests the character with a sense of fun and mischief. It's worth mentioning that Carroll had to take over the role at short notice after Indira Joshi left the production for personal reasons, and she gives an eminently likeable and confident performance.
Director Damian Cruden keeps things moving at a steady pace throughout, but I wasn't too keen on his decision to have workmen in brown coats constantly changing the scenery. At times, I found their presence distracting and intrusive. That said, Dawn Allsopp's set—a replica of Miss Marple's house in the film—is pleasingly detailed, and gives a sense of the domestic comforts that Rutherford so dearly loved.
Murder, Margaret and Me is an enjoyable and well-crafted production that mixes comedy and intrigue in a thoroughly entertaining—if rather old-fashioned—way.
Reviewer: James Ballands