Murdered to Death
Peter Gordon
Classic Thriller Season
Theatre Royal, Nottingham
(2010)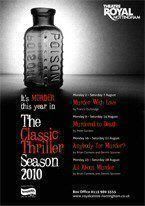 Acting in a production one week while at the same time rehearsing the following week's show can be an arduous task. It can lead to actors being called the wrong name, stumbling over sets they're unaccustomed to and having to cope with props not doing what they're supposed to. But it can give audiences the bonus of additional laughs. That's what happens in Peter Gordon's deliciously wicked spoof Murdered to Death.
This sideways send-up of the Agatha Christie-type whodunit is the second of four offerings in this year's Classic Thriller Season at the Theatre Royal - the 23rd year that Colin McIntyre's company has treated Nottingham to a series of suspense, shock and suspicion.
Audiences are well used to the format by now and make a regular date to support the plays - some people watching all four in the run at a time when there's little live theatre anywhere else.
McIntyre tries to keep the programme fresh and this year there's a Francis Durbridge play and two by Brian Clemens and Dennis Spooner as well as Peter Gordon's comedy which is getting at least two more professional airings at present.
Several of the cast are thriller season regulars and are able to take the unexpected in their stride. It keeps you on the edge of your seat and in some way balances out the disappointment of what turns out to be an enjoyable but slightly unsatisfactory evening.
McIntyre directs the production himself, maintaining a healthy pace but giving us a couple of characters who appear one dimensional and almost unnatural. For instance, Julia Binns presents Margaret Craddock as pompously aggressive throughout without even a hint of sarcasm. Aggression is her only emotion. And Karen Henson portrays Joan Maple as a frail busybody who ought to stick to tea and cakes. However, Miss Henson does have impeccable comic timing - something not shared by all her colleagues.
Set in the lounge of a country manor house in the 1930s, Murdered to Death features a gathering of dysfunctional people who are renewing their acquaintance with widowed Mildred, delightfully played with smouldering passion by Susan Earnshaw.
However, she's soon blasted to death and it's up to the bungling Inspector Pratt to try to discover what the word "motive" means and unmask the killer.
Nicholas Briggs, who's played Sherlock Holmes in the previous two thriller seasons and is the voice of the Daleks on Doctor Who, comes over as a good Pratt although he doesn't quite bring out all the humour in the character.
John Hester, in his sixth thriller season, gives a superb performance as bumbling, drink-loving, insolent butler Bunting; there's always a sense of expectation whenever he appears on stage.
There are also solid performances from Jo Castleton as Elizabeth Hartley-Trumpington and Jeremy Lloyd Thomas as French art dealer Pierre Marceau - both adopting aliases any crook would be proud of.
Some of the actors occasionally drop their accents and opening-night glitches contributed to a feeling that the production was under-rehearsed, lacking a certain amount of polish. But the ensemble aren't playing with fire - in fact they have a good shot at Murdered to Death.
"Murdered to Death" runs until August 14th and the Classic Thriller Season until August 28th
Reviewer: Steve Orme