Murder with Love
Francis Durbridge
Ian Dickens Production
Yvonne Arnaud Theatre, Guildford, and touring
(2009)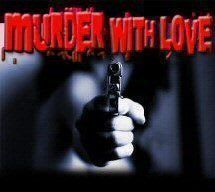 Columnist Jo is anxious to retrieve some incriminating letters from Larry who has just returned from the United States where he has been promoting his brother Roy's new invention. Roy's wife Diedre doesn't trust Larry, so she consults with lawyer Ernest Foster who is friendly with barrister David Ryder whose wife died while having an affair with womaniser Larry, now living with actress Clare who is suspicious of his relationship with Beth, while George Rudd seems to have enough connection with any of them to be able to resort to blackmail.
This meticulously constructed plot has so many intertwined characters, relationships and connections that almost the whole of the first act is spent establishing them while the audience works out where everyone fits in, not an easy task when sometimes Christian names and sometimes surnames are used, with even the cast having occasional difficulty remembering which name to use, but well worth the effort for an intriguing and entertaining "whodunnit", with the number of suspects keeping everyone guessing until the big surprise - although unfortunately disappointingly - ending with a whisper after the 'big bang'.
As prolific a writer as Alan Ayckbourn, Durbridge is most famous for, in nineteen thirty eight, creating the character of Paul Temple, beginning the popular radio series some of which has surfaced again on Radio Seven, and having established a style of detective thriller which worked so well he continued in the same vein until his death in 1998.
Directed and produced by Ian Dickens, it is co-directed by Leslie Grantham who also takes the part of Inspector Cleaver, the only character with apparently no previous connection with any of the others. The set (presumably designed by Dickens) splits the stage in two, one half being the living room of Larry Campbell's nineteen seventies London flat, with appropriately blood red furnishings. The other half is David Ryder's study, and this all works extremely well with the scene changes being established solely by David North's lighting.
The characters are established quite lightly, with little depth in the direction, but it is obvious that Larry (Marcus Hutton) is suspiciously devious and that everyone has a motive to dislike him. Jo (Louise Faulkner) shows she is worried that her letters might come to light, and David Ryder (Neil Stacy) appears surprisingly calm and casual when accused of murder.
David Callister is convincing as a likeable, avuncular lawyer - hardly a descriptive term for lawyers today, but perhaps in the nineteen seventies - and Jacqueline Roberts's Clare switches surprisingly swiftly from anger to loving kisses or from fear to seduction, showing a suspicious lack of grief at bereavement.
The most true-to-life character is Phil Stewart's rough and ready George Rudd, intent on attempting to extract money from almost everyone.
Fascinating, intriguing and full of surprising twists and turns, the play however does leave a few loose ends with the departing audience endeavouring to sort them out on the way home. Definitely not boring!
Touring to Swindon and Derry.
Reviewer: Sheila Connor