Mwana
Tawona Sitholé
Ankur Productions and Tron Theatre
Traverse Theatre, Edinburgh
–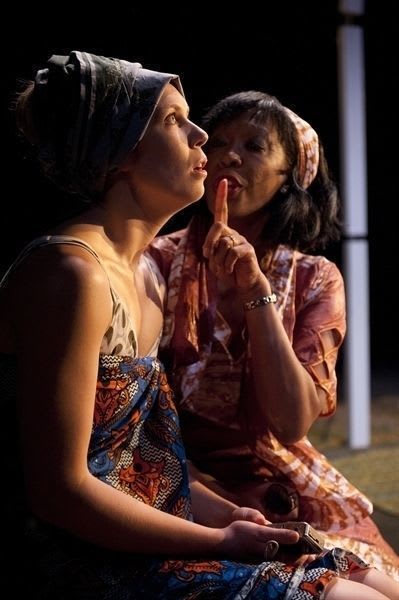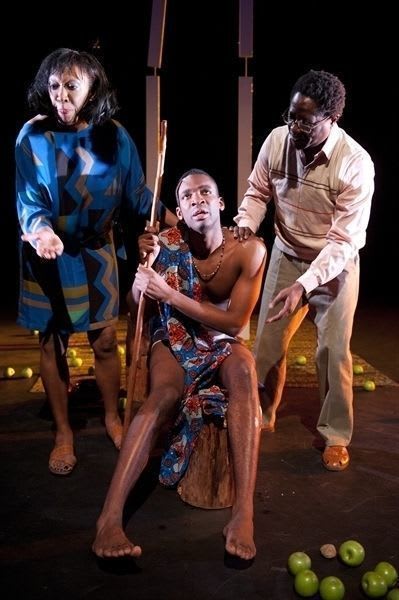 Tawana Sitholé's first full length play is a rather sad tale, but though it is set against the back drop of a drought the real problems lie within the family and human weakness. It creates the feel of a community in tropical Africa on stage, no mean feat on a cold day in Edinburgh, but it is rather short and slightly unsatisfactory.
Mwana (Denver Isaac) returns to Harare for his brother Joe's wedding from Glasgow, where he has been studying medicine. It should be a story of celebration, but Mwana has brought with him a white girlfriend Kirsten (Mairi Philips) and he has bad news about his studies. It is essentially the tale of the prodigal son, right down to the father deciding to take from Joe to fund Mwana.
The large tree that makes up the set and the chorus of apple sellers create a strong feel to the play, but the plot is rather simple and doesn't progress very far. Mwana has squandered the family's money and not passed his medicine exams, this is clear from his first exchange with Kirsten, but after this all that happens is a downward spiral for Mwana and not much else.
Gladys (Nicola Gardner), Mwana's mother, stands out as a great character, adding comedy with her aping of posh English and also delivering a speech about how the men of her family have let her down. The posh English of Gladys contrasts well with Kirsten's Glaswegian accent and Philips gives a strong performance too, as the isolated white girl.
Isaac is a very likable actor but there isn't a lot of scope for the development of Mwana's character. Having said that, the relationship between him and Kirsten does show the passion and emotions of a new relationship put under stress. Isaac also does make Mwana sympathetic enough for the play to be tragic; despite his characters' weaknesses, he is charismatic and undeniably attractive, especially when down to his underwear.
The ending was the real let down of the piece, too easy and quick and with Kirsten coming back momentarily for one line. It all felt rather unfinished.
A rather underdeveloped play that nonetheless had some notable performances and a script that, although lacking somewhat in the plot, was lyrically very good at times. As was the overall look of the piece.
Reviewer: Seth Ewin