my body's an exhibition
Christopher Matthews
Wild Card
Sadlers Wells
–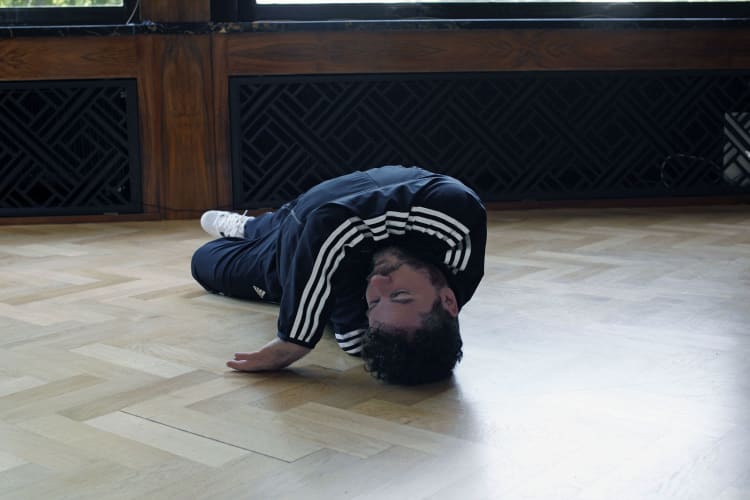 Christopher Matthews, my body's an exhibition is a cross between performance art, dance and a guided tour of the deep, dark corridors of Sadler's Wells spaces backstage.
Devising a route that tickles his imagination, Matthews leads the audience on a weird and wonderful journey through the foyer to a confusing warren of corridors, toilets, dressing rooms and studio spaces leading to the main stage, spewing us out the other end at the Lillian Baylis theatre.
It's less of an immersive experience than initially expected as there's little to participate in apart from the fact that the fourth wall has come crumbling down and the audience is led through Sadler's Well's monumental behind the scenes private spaces to view live duets, dance screens and playful installations.
There's something sombre and slightly depressing about trundling through empty spaces with makeshift purple signs and purple balloons nannying the audience merrily along. Whatever is going on is about to start or has already finished. Such empty spaces acts almost as an ode to the pandemic itself.
Dressing rooms are transformed into discos and mirrors are smothered in lipstick slogans, but there's a ghostly emptiness about the disco music pumping out catchy beats bouncing around cavernous spaces. Where are the performers? There's a gimmicky, clubby, after-the-party feel in such emptiness and flashing lights.
I take a peek in the mirror, have a shimmy when no one is looking, but it's just me. I wonder if a greater physical presence might have enhanced the experience as there's minimal interaction aside from the three pivotal locations where in each, a pair of dancers perform repetitive a movement that looks like they've been caught in an alternative universe loop system.
In terms of live performance, enter the main foyer one floor up and two female dancers posture and pose on the staircase bannister beckoning the audience on with their journey. The next performance is on the main stage behind the curtain. Two men dance on white plinths in slow motion. One dancer keeps perfect time in elegantly tuned sequential movements, while the other barely moves, as the audience are ushered onto the stage, mostly choosing to crouch down at a distance from the dancers. It's oddly mesmerising in a topsy turvy, Alice down the rabbit hole way. Here we are, watching a live duet, curtain down, backstage. The world is not as we know it.
At the same time, main auditorium, a giant screen is erected in front of the curtain featuring Songhay Toldon moving in sequential, clubby movements, weaving mesmerising shapes around his singular form. Such accomplished performance is nonetheless a distraction from an empty auditorium crying out for a full house.
The third real-time physical performance is in the Lilian Baylis Studio where two dancers decked in Adidas take photos of each other writhing around the the floor in Matthews's piece Lads, while the audience creep in, again glued to the edges of the black box as if somehow disturbing a private moment in time.
Matthews's own Look At That Body invites the audience member to become a dancer through this journey, but it's difficult to boogie on down solo in response to a cardboard cut-out of Janet Jackson without a little sideways glance over the shoulder to check nobody can see. Perhaps the experience alters if you come with pals and embark on the journey down the echoey corridors of mystery together.
Reviewer: Rachel Nouchi