My Country; a work in progress
In the words of people across the UK and Poet Laureate Carol Ann Duffy
National Theatre
Theatre Royal, Stratford East
–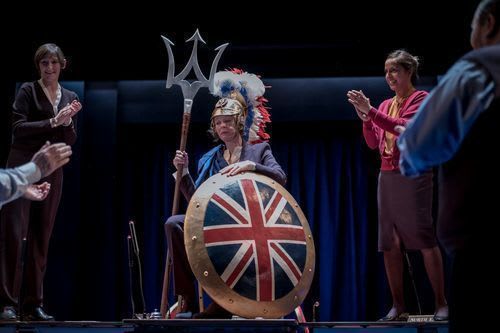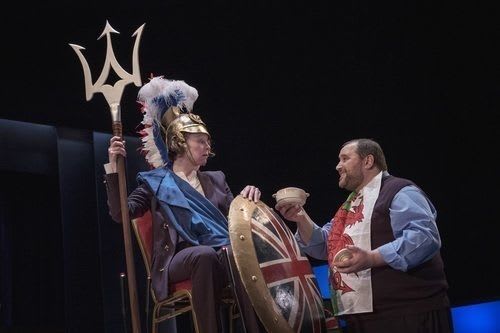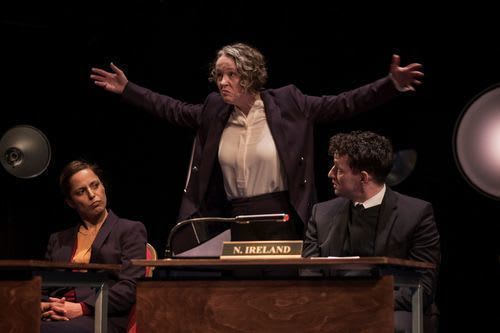 Any attempt to dramatically represent the divisions of the EU referendum campaign would have been difficult, especially if those making the attempt are still bewildered by the vote to leave.
Carol Ann Duffy and Rufus Norris have tried to do this by shaping extracts of interviews from across the UK into the eighty-minute My Country.
It is a play in two parts. There is a framing device of seven civil servants coming together for some sort of inquiry or, as the character Britannia (Penny Layden) puts it, "the sacrament of listening". They are the cartoon characters who engage with each other in words written by the authors. The device gives the play its dialogue, its movement and its action.
Within this frame, the actors speak verbatim extracts from interviews. These are static and rarely connected to each other.
Neither part of the play is satisfying. Both parts can be entertaining but are superficial and in some ways irritating.
The framing characters rely too much on crude stereotypes. Scotland quotes Burns, refers to Andy Murray, and in anger walks out on the rest. Northern Ireland suddenly decides to perform a section of Riverdance. Wales quotes Dylan Thomas and leads everyone in song. The contribution of Geordie is a vegetarian pizza consisting of pizza with a topping of chips.
The verbatim sections are occasionally poetic and amusing but rarely produce any kind of pattern that might help our understanding of the people quoted. Even when they appear in sections, such as the huge selection of comments on migrants, it is still like hearing the chaotic fragments of people you pass while walking down the bus.
The show is like a curious gift shop full of odds and ends for the tourists to take home from an unreal imagined UK past.
The character Britannia finishes the show with a plea that, "we should seek and strive for good leadership."
Writers such as Gillian Slovo and David Hare have achieved this with verbatim plays informed by a perspective that encourages understanding, commitment and action on difficult subjects. It's something the National should also do rather than bringing to the stage its souvenirs and stereotypes from a brief tourist trip to the United Kingdom.
Reviewer: Keith Mckenna